The affectionthe Yellow Army feel for Ivo Pinto and Timm Klose is infectious. But why is that, and have we all become a bit too swept up in the moment, meaning our judgement of their performances is impaired? Jon Punt takes a look.....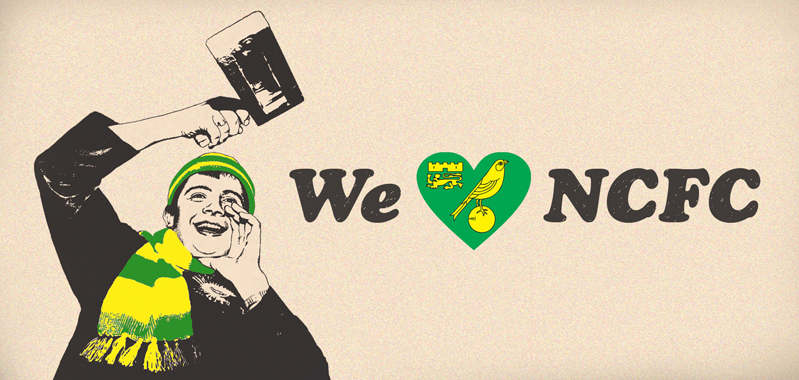 Something struck me on Saturday in the aftermath of our win over Burton Albion. And no, it wasn't one of the opposition supporters that took a disliking to my face on the walk back to the car.
In my humble opinion, which I accept is no more valid than any other fan who paid the entrance fee, Ivo Pinto was poor. His forays forward often left his colleagues dreadfully exposed down our right flank, meaning the steadying influence of Russell Martin was dragged wide in an effort to snuff out the visitors' advances.
Lloyd Dyer, hardly a wing luminary, caused Norwich problems all afternoon and not for the first time this season Pinto made unforced errors which may have cost us dearly against higher calibre players.
Yet despite this social media was awash with commentary proclaiming him man of the match or in one particular case "The best signing we've ever made".
Maybe the goal masked a less than average display, but it was interesting to note the outpouring of emotion once he'd grabbed his debut goal. It was perhaps the loudest we'd heard Carrow Road all afternoon when "Ivo, Ivo, Ivo, Ivo, Ivo, Ivo, Ivo Pinto" reverberated around the ground. I was delighted the lad was off the mark in a yellow shirt (it also turns out in any shirt) but I didn't get why most had fallen so deeply head over heels in love with the man.
I should add a caveat in here. Pinto is, on current evidence, a magnificent human being. Loves the club, a wonderful attitude towards life with some serious photoshop skills. Seriously, what's not to like?
I also fully accept our Ivo is potentially a very capable right back at this level. Bags of pace with a desire to get forward at any available opportunity, he's tailor made for an Alex Neil side which deliberately narrows the midfield allowing the full backs space to exploit. But he has his frailties as a defender, can be reckless in the tackle and the man's positional sense requires improvement. These things often get overlooked, or even worse totally ignored.
So why does everyone love him so? He's a handsome gentleman for sure, but in a quick game of Snog, Marry, Avoid with the current right backs at the club he's only getting a quick peck from me. For the record Russ is marriage material and Stevie is, well, infinitely avoidable.
Perhaps players who become cult heroes, which Ivo is surely fast becoming, cannot actually be all that good, otherwise they'd be regular heroes. See Simon Lappin and Darren Eadie. One not great = cult hero. One superb = regular hero.
It left me thinking though. What if Steven Whittaker had turned in the kind of display Pinto put in against Burton? For my money, he'd have been vilified, hung out to dry without a second thought by many. But is there that much of a difference between the two?
Both have Champions League experience, can be defensively suspect at times and enjoy roaming up the pitch when given license to do so. It's accepted that Whittaker has the odd blunder in him, yet I'm almost certain Pinto would be afforded more patience if he were to suddenly gift Championship opposition a few chances.
Maybe it's Ivo's attitude. A quick look at his social media pages will tell you he relishes life in Norfolk, appreciates the fans and is genuinely a popular member of the squad. But just because Whittaker chooses not to engage in Twitter, Snapchat or Instagram fans don't have similar insight into his feelings about all things Norwich City.
The same could be said about the Norfolk Tourist Board's newest ambassador, the Swiss Colossus that is Timm Klose. He's a character for sure and has now publicly declared his commitment to Nelson's county.
However, his performances this season haven't been of the quality we'd seen in the Premier League. He was bullied by Daryl Murphy at Portman Road and was worryingly absent at St Andrews. Yet again though, these shortcomings can be overlooked, and maybe because of his social media swagger.
Are we in danger of judging players based on their amount of retweets or likes, rather than what they do on the pitch?
I'd argue that Seb Bassong would have put in performances of a similar standard to Klose for the campaign thus far. The same Bassong that returned triumphantly to the club after his falling out with Neil Adams in 2014/15, and became a mainstay of the side who eventually ran out victorious at Wembley. But there is a deeply held perception among fans that Seb is a clown and can be prone to the odd error. Unfortunately for him, his most memorable piece of social media PR was to wave a pistol around on Instagram.
Maybe he's too gangsta for Norfolk. Or maybe it's his relaxed approach on the pitch that makes him seem too lackadaisical for professional football. However, the comments made by the Murphy boys about his professionalism and words of advice he's readily offered them might be some of the reason he was appointed captain under Chris Hughton. There's probably a good egg in there after all, covered in the shroud of a slight dickhead.
Whittaker's, and to a lesser extent Bassong's treatment by certain sections of the crowd borders on harassment. But then football fans' penchant for scapegoats is notorious. Darren Kenton is a case in point. Having come into a struggling Bruce Rioch side during 1997, he found it difficult to win over the Barclay boo-boys. Although his was a longer road to redemption, the part he played in play off final season was key. Carrow Road was wrong after all, it turns out you'll never beat the Kenton. Maybe if he'd been active on Myspace, banging on about how brilliant the club was, we'd have liked him from the start.
I'm fully aware the masses may well disagree with my thoughts. In a way I love the fact that most love Ivo and Timm unconditionally. Just keep a bit of that affection back for when they're injured and Stevie or Seb come to the party. They probably need our support that little bit more.
You can follow Jon on Twitter @puntino