By
James Chaplin
Euro 2016 will not be remembered as a classic, but City fans have more reason than most to look back on the tournament fondly after 4 of our own headed to France and 3 of them were superb.
All of them confirmed what most City fans knew already;
Robbie Brady
Last season's runner up for the Player of The Season award may not still be in Norfolk come the end of the summer, but despite playing in a different position every game, Brady flew the green flag higher than anyone else in France.
As for much of the season for Norwich, Brady started the tournament in the match against Sweden at left back and whilst he couldn't do anything about the Swedish equaliser he was a constant threat,carrying the ball forward from deep beyond Ireland's narrow midfield.
Pushed up to the left hand side for the Belgium game, he competed well but was ultimately fighting a losing battle as the second best team in the world (according to FIFA's infallible rankings at least) ran amok winning 3-0.
With the Irish needing a positive result in their final game against Italy, Brady had a further change of position and started on the left of a midfield trio. 5 minutes from time he made the perfect run and was found with the perfect pass from his Norwich teammate, a certain Mr Wes. His bullet header sparked wild and emotional celebrations from the Irish with Brady himself shedding tears as Roy Keane affectionately throttled him.
The European adventure would come to an end against France, but not before Brady had rattled in a superb penalty to open the scoring. Not only Ireland's player of the tournament, but a player who lit up Euro2016 and now looks destined for a big money moved back to the Premier League. 91/100 footballs.
Wes Hoolahan
Unfortunately for Wessi, a large chunk of his peak playing years coincided with Giovanni Trappattoni managing his the Republic of Ireland. Failing to fit with the Italian's Catenaccio style, he spent years in the international wilderness, but his performances ensure he couldn't be ignored when Martin O'Neil took charge in 2013 and Wes became an important player for his country during their successful qualification process.
A real highlight for Wes (and City fans) was his opening game against Sweden. Played at the tip of a midfield diamond, he became only the 4th player ever to score in the Euros for Ireland with a wonderful right-footed strike, hitting the ball harder than previously thought imaginable and with his standing foot.
Against Belgium, a forced reshuffle saw Hoolahan playing behind Shane Long. The pair were suffocated by a physically dominant defence and Ireland were steamrollered into a 3-0 defeat.
A further change of shape saw him relegated to the bench for the start of the heroic 1-0 win over Italy. Level at at 0-0, he came on for the last 13 minutes and seemingly fluffed his lines with a poorly struck shot when through on goal. However, Wes showed his excellent temperant and composure as he made amends minutes later with a wonderful chipped ball in from the right flank that Robbie Brady powered in.
Wes returned tothe bench against the hosts in the second round, being thrown on just after France went 2-1 up and Shane Duffy had seen red, but with Ireland flagging in the heat and chasing French shadows. was unable to influence the game. A consistent tournament for Wes, lit up with 2 moments of absolute class 78 footballs.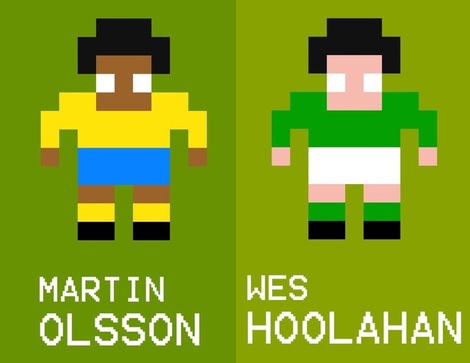 Martin Olsson
Olsson went into the tournament after a season in which he performed fairly well as an individual, but with the team around him struggling to score goals whilst conceding far too many. The Swede must've been suffering from d'ej`a vu during the competition, as he again wore yellow and played in a side suffering with exactly the same problems.
Sweden's opening game was the 1-1 draw with Republic of Ireland (a game in which both left backs played for us) and as Canary fans will have seen all season, Olsson provided a good attacking threat wide left with some whipped crosses into the box. Olsson supplemented his attacking threat with competent defending when he was called upon, leading to being awarded man of the match.
1-0 defeats to both Italy and Belgium saw Sweden end up bottom of the tough Group E and heading home, but Olsson defended well in both of those games and can be one of the few Swedish players to leave France with his head held high. 70 footballs.
Kyle Lafferty
Coming into the tournament with just 3 goals in 2 years of British domestic football, Lafferty had picked up a knack of scoring goals for his country during the Northern Ireland's qualification campaign.
Whilst some people continue to insist he is the harshly done by saviour, many observers questioned whether he could keep this form going into the tournament with the defences of Poland and Germany surely providing a sterner test that than those of Finland and the Faroe Islands.
Lafferty started the opening game against Poland and although they lost 1-0, he provided his country's only attempt towards goal with a wild bicycle kick from outside the box. At the other end, he was fortunate not to concede a penalty with the ball appearing to hit his arm.
His lack of effect on the Poland game led to Michael O'Neil dropping him for Northern Ireland's famous 2-0 win over Ukraine, losing his place to former postman Conor Washington.
Lafferty again started on the bench in Northern Ireland's final group game only being thrown on in the last 30 minutes of the defeat to Germany as Northern Ireland went desperately hunting for a goal. He was sadly anonymous.
Northern Ireland finished 3rd in Group C and were rewarded with a second round match against Wales. Lafferty returned to the team for the Wales game and gamely ran the channels, but was ineffectual centrally.
Interestingly, Northern Ireland did not score a goal whilst Lafferty was on the pitch. 19 footballs.