Jon: When the then mighty Championship financial powerhouse that was Norwich City decided to ditch Alex Neil, there wasn't a long list of potential candidates ready to fill the void. Clearly, we're now treading a different path with a Sporting Director nabbed from a successful Hudderfield side and Borussia's U23s head coach in Daniel Farke. It's been a stuttering start but signs of life are there.

However, top of my shortlist at the time was a certain Mark Warburton. Aside from the excellent and obvious bread related puns we're missing out on, what has Warburton brought to Forest? His track record up until Glasgow Rangers was excellent and he seems a real student of the game's science. His job north of the border always seemed a poisoned chalice to me and he has the makings of a decent Championship coach given the right infrastructure.
David: Infrastructure. This is a word with we are only just getting used to here in Nottingham. Previous to May this year, we thought that infrastructure was a minor character from Lord of the Rings. Until May, we seemed to be engaged in a systematic process of dismantling any sense of coherent structure or organisation behind the scenes. Yet now - disregard the allegations hanging over our new owner for a second if you would be so kind - we have actual real life people employed by the club to do actual things.
Essentially, Warburton walked into a club with zero strategy regarding player recruitment, leading to an extraordinarily unbalanced squad with a huge number of players about to walk away anyway since they were only there on loan in the first place. Luckily for Warburton, he inherited a bunch of preciously talented youngsters and has been canny enough to build a team around them, supplementing them with, erm, more precociously talented youngsters.
When he was appointed, most felt that we were lucky to be able to get him to give us a second look, given the state we were in. Fortunately for us, he winked back and got the first round in.
We aren't the free-flowing Brentford he crafted a few years ago just yet. Given that the team is alarmingly young, we are very inconsistent, even within the space of one half of football. Yet we do indeed ponce about with the ball in dangerous places and weave intricate triangles in all areas of the pitch. Once we crack the knack of ensuring these intricate triangles lead to a more sustained goal threat and we can do it all just a little bit quicker, we'll look alarmingly like that lovely Brentford team under Warbs - Warbers - Warberzzzz - Warboys - Warbo - Mark.
Surprised you haven't christened him the Warbinator to be fair. I'm not angry, just a bit disappointed. Still, sounds like he's turning you around and I'm glad, always had a soft spot for Forest. These precociously talented youngsters you mention, Barrie McKay, Tyler Walker and Ben Brereton are the ones I've heard of. How are they getting on and who else should we be oh-so-wary of?
Warbinho.
Dowell receives the ball and turns with more grace than Rudolph Nureyev. McKay has Alex Baptiste's head on a plaque hung up in his living room. Brereton doesn't get too much of a look-in at the moment as Daryl Murphy has bagged the striker's role and is performing it rather bloody well but Brereton's time will come. In many ways Ben Osborn makes us tick - he is the beating heart, the life-blood, the elixir of our existence and I love him with a love that is pure and true.
In fact, while you're there and I'm banging on about our youngsters, have a load of this: of the matches played by the England under17, u19 and u21 in November, 31 clubs were represented. All six games were won, sixteen goals were scored and only four were conceded. Only four clubs had players at all ages: Arsenal, Chelsea Spurs and little old Forest. We're dead chuffed with that to be honest with you as it gives credence to us banging on about a bunch of talented youngsters coming through the ranks.
That is impressive, and it is wonderful how necessity can often accelerate player development. We're seeing the same this season with James Maddison. Had Alex Pritchard been fit, it's doubtful he'd have been given a significant role, now he's become integral to any goal threat we carry. Oh and he scored the winner against Town, so he can do no wrong.
Changing the subject, I'm really interested in matters off the pitch at Forest over the last couple of years, although you'll be ecstatic to know I'm not talking about your ownership eccentricities. Forza Garibaldi seem to be progressing a grass roots fan movement to produce old school style atmospherics. What's been the secret to their success and how much of a difference have they made to the noise in the City Ground?
Their success boils down to the simple fact that most football fans just want a good day out with a bit of booze chucked in.
There are many reasons for their emergence but essentially, I think that following Forest for the last 5...10...20 years has been such drudgery that on too many occasions, we've wondered what the whole point of it all is - there must be something more to it all than pinning your whole existence on whether your team manages to score more goals that the other team. Following a football team should be fun and in the last five years under an owner that shall not be named and a manager that shall not be named, it was 'orrible - the last two years especially so. There was a real disconnect between the club and the fans and the final kick in the teeth was the club's attitude towards our 150th anniversary. So essentially, we - us fans - decided to make our own fun and kind of reclaim the club. We met in pubs, we sang our songs about past glories, we had lots to drink, we waved our flags and we got to know each other. And do you know what? We kind of started to enjoy it again.
What I like about the movement is that they are trying to be different. It would be too easy to just import a European ultra culture approach and get a drummer, a capo and a generic song. By their own admission, they don't have all the answers and aren't quite sure what the end game is but they've certainly made a difference to the atmosphere outside the ground. Maybe the next step is to transport that to inside the ground on a more sustained basis.
The boat trips down the Trent are already stuff of (Robin Hood) legend, especially the moment Forest Miracle Man from the Championship, League and European Cup winning team, Colin Barrett, recreated his famous Forest goal against Liverpool on a Subbuteo table. Imagine Jeremy Goss clambering aboard a Subbuteo table with a pint in his hand and recreating that goal against Munich.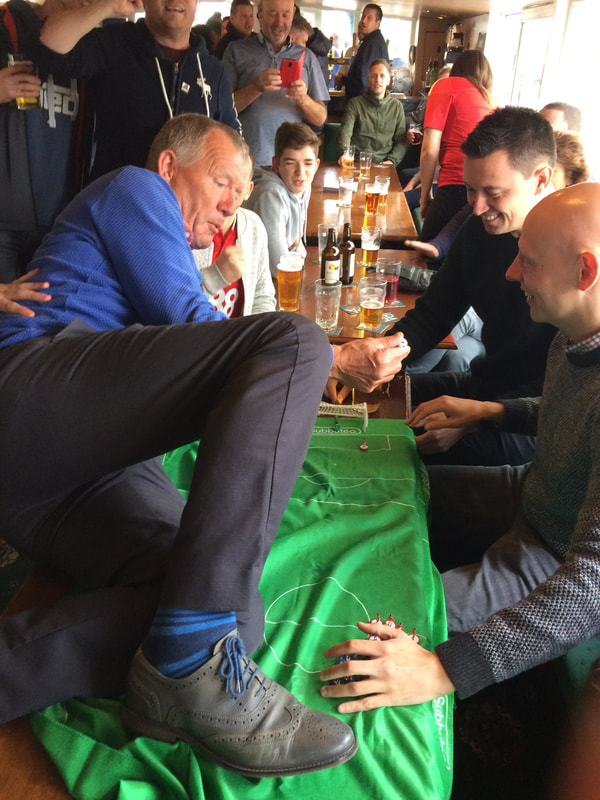 It is a slow process but Forza have certainly contributed to following this thing of ours being fun again.
But beer mostly...that's the secret to their success.
I salute the Forza guys, been watching their progress for a while now and it's excellent to see a real cultural shift back to better times on the terraces. Still, I hope they're silenced on Tuesday after a couple of early Gossy style strikes.
So where can we get some joy against your youthful bunch? You may be displeased to learn Nelson Oliveira is nearing full fitness (although you did describe him as sometimes having sausages for feet when last we spoke). I'd imagine he'll be keen to start and prove some kind of passionate Portuguese point to the home fans.
Press us high up the pitch when we're faffing around trying to play it out from the back. That'll force us to dink it wide or into the middle of the park for someone to run through and score. Easy really. Or if we're really having an off day, just stand off us and let us pass ourselves into a never ending passing vortex until we get confused and pass it to one of your lot precariously near to our goal.
Or just play Hoolahan - he likes to turn it on against our mob.
Sounds simple, shall we just call it a routine away victory now?
Ah Wes, little lovely Wes. He hasn't really hit the heights of previous seasons this term and he's yet to open his goal scoring account so far. Nailed on he'll score then really.
I have to admit, I'm a tad concerned about former Tractor Boy (ugh) Daryl Murphy facing Timm Klose. The Irishman well and truly bested him at Portman Road last season and I do wonder whether psychologically that might play in your favour. Murphy and the young uns excluded, anyone else who might cause us trouble?
Lump on Wes to score. Mortgage, kids and your Farkelife shirt.
That's reassuring to hear about Murphy although he's had a big couple of weeks - mentally and physically - with the Irish. Suspect he might be rested at the weekend to come back fit, firing and fully pumped for some Klose action.
Young Scot Jason Cummings is itching for a goal and we still have Michael Mancienne at the back who has never scored for us. One day.
It's about time we won against Nodge. Been a while. That 5-1 last season...that was tough. Did you know Ross McCormack plays for Melbourne City these days? Weird.
Does John Deehan still play for you? No? Efan Ekoku? Ian Butterworth? Leon McKenzie?
Ian Bloody Butterworth, now he was a defender. No nonsense stopper with a bit of class, he'd have walked into any Norwich side between the mid 90s and present day. Thanks for him, I know he never really made it at Forest.
As for McCormack, at least he should have found a suitable home down under, they're pretty famous for the quality of their pies in Oz and boy does he look like he enjoys them. Bullet most definitely dodged with that one once Villa's megabucks tempted him to the Midlands rather than Norfolk.
So......I've just placed the wife's life savings on Wes to bag up on Tuesday, any other hot tips? I'm going for a sneaky and stealth like Nodge 1-0 win. You won't feel like we've out played you, yet you'll respect our new resolute approach to defending. Your prediction?
It'll be cold.
We struggle to keep clean sheets. We like to score goals - especially at home.
0-0.
And general coldness.
Brrrrr, thanks David, it's been a pleasure.
David writes for the Nottingham Forest matchday programme and Forest fanzine Bandy and Shinty who have been recently nominated for the Football Supporters' Federation fanzine of the year. It's an excellent publication and well worth a look. Good luck with the nomination.
---
Two things; first, did you know we have a new podcast? It's available via
iTunes
and
Soundcloud
. Alternatively you can just
listen to it in your browser via our podcast page
. Chris Goreham was our latest guest and he was fab. This week, Thomas Markham-Uden from Barclay End Norwich will be joining us AND we'll be recording while keeping abreast of the Forest game. Fun.
Second, to keep AlongComeNorwich advert free and to help us fund additional initiatives aimed at improving the Carrow Road atmosphere, we occasionally produce exclusive t-shirts/merchandise.
This time we've produced garments celebrating our rightful place as the Pride of Anglia. As always, we take no profit from these and put all the revenue back into the site and things we can all enjoy.
Comments
There are no comments on this article yet.