Recently Along Come Norwich became aware of some really great work a Nottingham Forest Fans Collective called Forza Garibaldi were doing to try and improve atmosphere around the City Ground (and on away days too)

Naturally we were interested and contacted Matt, one of their co-founders, to find out more. Here's his story, anyone fancy a boat trip down the Wensum?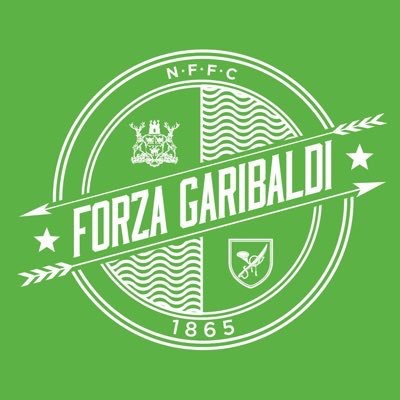 For a number of years now things at my club, Forest, have been a struggle. I won't run into the finer details but most of you probably know the basics. It hasn't been pretty and the last twelve months has seen a turning point in the mood of the fans. Throughout relegation to League One and other numerous dark moments the Forest support remained solid and turned out in support of our team but last season, our 150th anniversary campaign, apathy firmly set in.
I can point to several reasons but anger at the owner and frustration with the style of football were something of a breaking point for many. Going to see our team was not fun and the atmosphere suffered. We limped into the summer with a great deal of relief but also worrying uncertainty.
Reaching 150 years was a milestone for the club and there had been much talk of glamorous friendlies and the like to help us celebrate.Typically, none of this materialised and the anniversary threatened to pass us by with only a black & gold kit and some very nice retro programmes to show for it.
The Forza Garibaldi initiative was borne out of the need to mark 150 years of NFFC. I dare say that if we had been fighting for promotion this wouldn't have happened but there was a desire to do something, anything, to allow the fans to celebrate the occasion. A small group of us arranged a gathering at a pub in Nottingham City Centre where the club was formed on a date that coincided with our first ever fixture (we beat Notts County 1-0). The club historian along with our former player, Colin Barrett, both spoke to the crowd and gave it a sense of occasion. This culminated in a mass walk to the ground - a fabulous sight as several hundred fans left the city centre towards The City Ground.
While there was never any consideration for anything further beyond this, the positive impact it had stuck with us. As the close season began we set about thinking of ways to build on it.
In our opinion, the atmosphere at English football grounds has become stale. At Forest, the old Trent End was a hive of excitement and creativity right up until it was demolished in the mid-1990's. It lingered for a while but we have since fallen into that sterile environment that has blighted many clubs. The spark has gone from the terraces. Any new chants were largely stolen from one of the big teams and sung by dozens and dozens of clubs. Everywhere we bleedin' go. Words cannot describe the disdain I have for it and it's ilk.
Where we saw an angle for Forza Garibaldi was to try and re-create that big English atmosphere. Many other clubs have gone down the ultra route and good on them for trying something but, in my opinion, we don't do it very well in this country.The wit and the humour of the songs and chants is what always set us apart. We certainly want to embrace flags and colour and we draw certain influences from abroad but the idea is that it remains rooted in a more traditional domestic atmosphere.
Of course, we are setting off down a path that may take a while and perhaps it won't work in full but we hope to introduce positivity and a spirit back into the fanbase at Forest. The place to begin was by continuing with gatherings and events like what set us off last season. We see the potential for getting like-minded fans together and getting them in the mindset to want to support their team. We realise that we won't be for everyone but those that are interested can join us at various arranged locations to drink, to sing and be merry and they can join us in the ground too.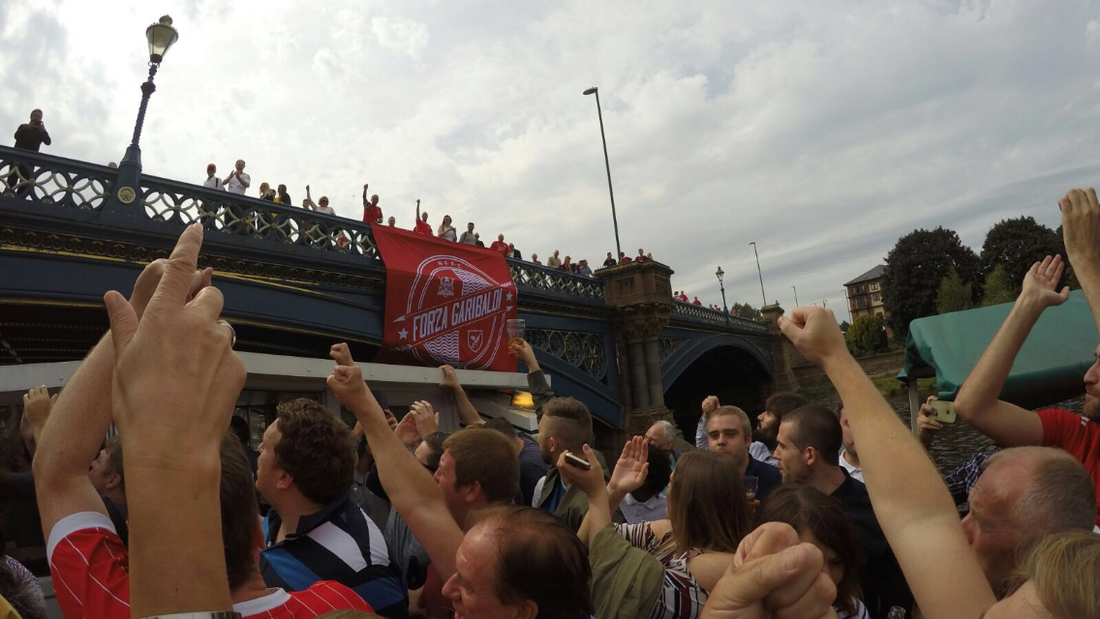 The first of these this season was our boat trip down the River Trent a few weeks back. I gather that Norwich fans have considered doing something similar and I would highly recommend it. Due to demand we ended up with three boats of 200+ people and we could have filled more. This was, in basic terms, a piss-up on a boat but there was a fantastic camaraderie and some extra touches we had included such as a Forest-centric playlist and a large banner that was draped over Trent Bridge as we sailed past the ground at the end of the trip.
The effort we put into it was substantial but it was worth it for the last ten minutes alone as we made our way towards the ground. Our fellow fans on the banks waved and clapped us along as those of us on the boats made ourselves heard.Even the club mascot found his way next to the river to join in!
The atmosphere at the game (v. Leeds) was electric that day. We don't take any credit for that you understand, that was down to the team and the entire crowd but I can say for sure we disembarked from the boat and felt like getting into the ground and giving our all for the players.Spurred on no doubt by copious amounts of alcohol! Speaking with others afterwards they agreed.
We don't want to control the atmosphere at games, nor do we want to be a voice for the Forest fans. We believe that a good atmosphere is largely based on spontaneity and excitement and too much organisation is detrimental to that. I guess we see ourselves as simply giving things a nudge in the right direction.
For all the compliments and nice words we have received to date this whole movement is simply based on a few of us who enjoy to sing and to be part of a real atmosphere. And our reputation as a fanbase matters to us. We have some neighbours down the Brian Clough Way who like to bleat away a fair bit but they are ultimately the model of what we don't want to do. They wave black bin liner flags provided by their club and have a repertoire of songs that they just re-hash from Man United or Sheffield Wednesday predominantly. And to boot they meet up in the week to rehearse new songs (again, stolen from other clubs). I am completely gobsmacked that they haven't been seen doing the Icelandic hand clap yet!
Ultimately, we want to be a set of fans renowned for being original and unique. We want to develop a mentality of unwavering support for our team and we want to enjoy ourselves. It won't be done overnight and I very much doubt any of the 2,000 Norwich fans in Nottingham on Saturday noticed anything but we'll keep plugging away. We are, after all, only a few weeks into this.
We have made a better start than we thought was possible, though. Thankfully we have made a decent enough start to the season and the new manager and his team are proving to be an exciting team to watch. The acid test will come when we lose three on the bounce sometime soon. We are, however, really grateful for the support we have received. Folk want to be part of it and want to know what is next. We almost can't keep up with the demand. We played Rotherham in midweek very recently and we were constantly asked where we would be. While it just isn't feasible to always do something we are really chuffed how there is now a desire for fans to get together and try and do something.Long may it continue.
For now, we are concentrating on building our numbers and getting people to join us at more upcoming gatherings. We've set the bar high with the boats but whatever the setting; these gatherings will be designed around creating a buzz that carries on through the turnstile. In truth, we don't know where we will go with this but, for now, we are just happy to be contributing in our own small way.
See you at Carrow Road in February and good luck for the rest of the season.
Thanks to Matt for sharing his story with us, you can follow Forza Garibaldi's exploits on Twitter @Forza_Garibaldi
-----------------------------------------------

BEFORE YOU GO!
If you're enjoying Along Come Norwich we'd REALLY love for you to vote for us in the 2016 Football Blogging Awards, under the category "Best New Football Blog"
To vote for us via Twitter click here
To vote for us via the Awards website click here
Thanks in advance, we love you all! Apart from you, yeah you know who you are.....