Bubble burst then. 1 point from 6, a disappointingly average display and the unbeaten home record is gone. Surely there must be something to salvage, right? Jon Punt and Andy Lawn take a look......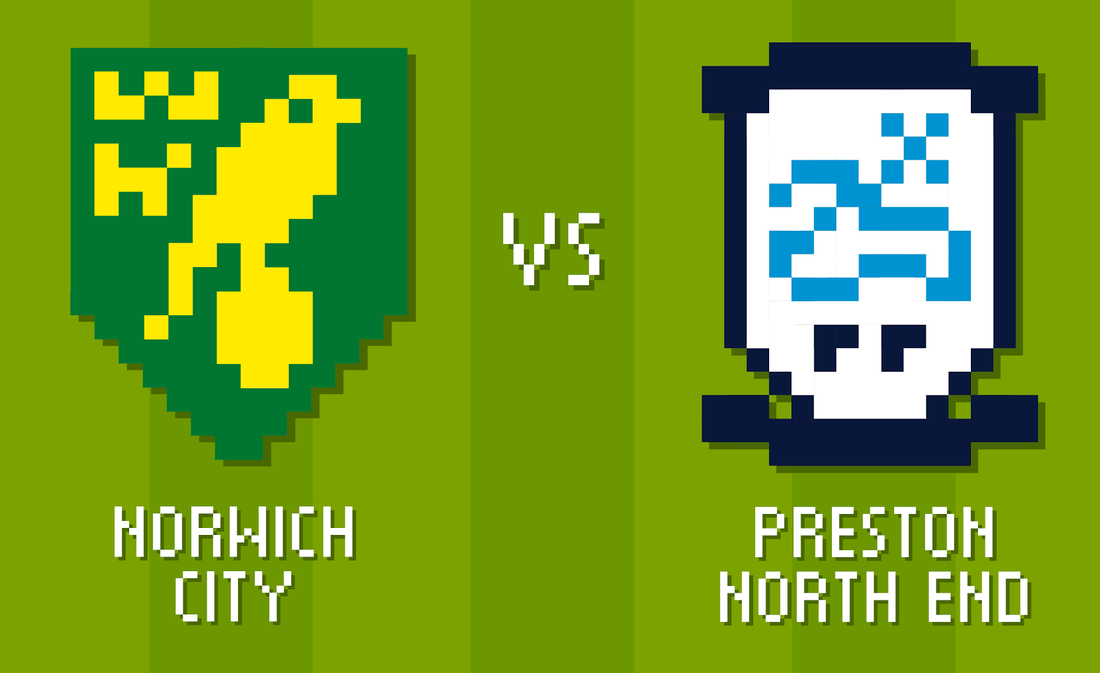 Random star performer
Paralympians Alfie Hewett and Jessica-Jane Applegate got a rousing reception from both Norwich and Preston fans as they made their way past the Barclay and into the South Stand. On a forgettable afternoon that had as much going for it as a grey Tuesday morning in Dagenham, it was a nice moment in the autumnal Carrow Road sunshine. Unfortunately, when an extension of the club mascots for the day are the best bit...
Moment of the match
Slim pickings. Cameron Jerome's thumping volley just after Preston scored was superb, as was the instinctive follow up. The saves to deny him were also top drawer. It's been a frustrating afternoon when nearly scoring is the highlight.
Referee watch
It would be easy to call match referee Steve Martin a jerk, maybe even a dirty rotten scoundrel. In fact, why didn't he point his bowfinger to the spot when Cameron Jerome was upended on his way to goal late in the second half, instead choosing to give a free kick 15 millimetres outside the box? In truth though, the three amigos that were the officials didn't really feature as a talking point, although they maybe should have got a grip on Preston's time wasting earlier. That's nitpicking though, as is the fact the referee seemingly didn't know how to apply the advantage laws correctly. Ah well.
Biggest positive to take
Alex Pritchard. Again. Should he not start at the Amex, finally completing his ill fated journey around the M25, you could be forgiven for thinking Alex Neil has been the subject of a stealth lobotomy
Robbie Brady looks either half fit or half interested, dependant on how much of a conspiracy theorist you may be. Pritch's introduction, to reunite the fabulous new power couple of Hoolahard, was the first sign of any attacking spark. His movement off the ball opens pockets of space for others and you sensed it was a game made for Jonny Howson to burst into those gaps rather than the overly cautious, and much less technically able, Alex Tettey. The pre-game sighting of a shoeless and crutches wielding Howson making his way gingerly round the back of the Barclay, is a concerning negative.
Additionally, it's worth mentioning that without everyone's favourite poster boy Ivo Pinto, Norwich looked altogether more stable defensively, until everyone decided to stop doing their jobs around the 75 minute mark. The only problem was without Pinto's enthusiastic and energetic forays forward, Norwich were weakened offensively. The gaffer spoke post match about finding the balance between defence and attack, we're still very much a work in progress in this regard.
Weekly whinge
Martin Olsson. Having first given a needless free-kick away in a dangerous position, Olsson then impressed us by arguing with the assistant just long enough to allow the rest of the side to get organised. Having done that, he proceeded to take leave of his senses and wander aimlessly back towards the area, picking his ear and looking at the Barclay. He arrived in the six yard box just in time to turn back towards the pitch and stand motionless as Alex Baptiste nodded the winner, completely unchallenged. It might be harsh on the Swede, who has certainly been one of the stand out performers of the season so far, but fuck it. We're looking at you Martin.
The midfield duo of Dorrans and Tettey were also largely wasteful with possession. The ability to move the ball and switch the play quickly is integral to the system Alex Neil chooses to play.
Atmosphere rating
Signs of improvement from the no-show against Rotherham, but the Canary faithful still have much more to give. The crowd seemed to be electro-shocked into life once Preston had broken the deadlock, yet the players needed us much more before then. Some sections of the support booing the team off both at half and full time is frankly ridiculous, we're in this together people.
Summary
Let's get this into perspective. Statistically Norwich were very much in the ascendancy. 18 shots compared to the visitors 7. A dominant 57% possession. 12 corners to Preston's 4. On paper, had Norwich managed to sneak an opener and gone on to win the game, not many people would be complaining. The only problem is, football isn't played on paper. Average or below par performances have been the mainstay of the campaign thus far at Carrow Road and it's often Norwich's individual quality that has got us out of jail at home during 2016/17.
That being said, Preston did a job on us and they did it well. We had chances, didn't take them and were punished accordingly. After Tuesday everyone said "3 points on Saturday and this will all be forgotten". Well we got nothing, but it's still replaced the midweek frustration. Football eh?
You can follow Jon and Andy on Twitter, @puntino and @andrew_lawn