Pretty much top vs bottom, Norwich's match against Rotherham should have been nothing more than a regulation home victory. Jon Punt and Andrew Lawn take a look back on a table topping day for City...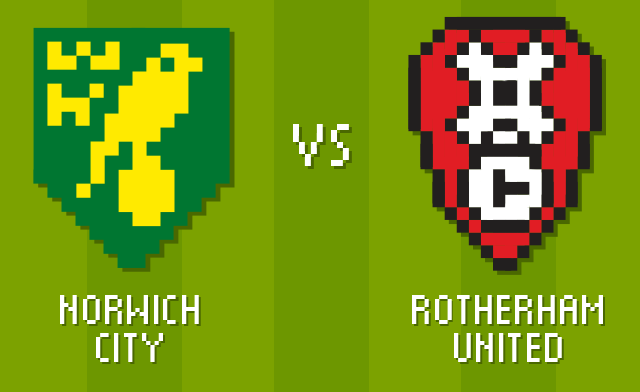 Random star performer
The steward who caught the tennis ball hurled at the Barclay by an irate Millers fan. Cue one handed catch and a new toy for the young City fan next to him. Joe Root fielding in the English slips would have been proud, good hands my friend.
Moment of the match
Wes' goal. Not the actual goal, although that made us do a little secret sex dribble, but the celebration was different class.
As Wes helped the 22 defenders he put on their arses back up, Ivo recognised the ball into the little Irish genius from Pritchard was worthy of celebration in its own right. He duly picked Pritch up like a baby, carrying him in his arms through the goalmouth and over to his tiny buddy. We haven't seen a better goal celebration since Ruel Fox and Mark Robins used to choreograph routines the Backstreet Boys would have shied away from.
Sidenote - we all saw that Pritchard assist right? The delay on the pass was exquisite; the former Tottenham man displayed a cool head to execute at exactly the right nanosecond. Throw in the cheeky nutmeg and the fact the weight of the ball was perfect and you have yourself quite a goal. Did we expect Wes and Alex could perform this well together at pretty much the first time of asking? Probably not. Are they now the world's most exciting power couple since Brangelina split? Maybe. Step forward Hoolahard. Actually, forget we ever said that, it sounds like a 1980s sex game.
Referee watch
A bit inconsistent, and definitely missed a few fouls. Surely one of the shouts was a penalty but by the same token Rotherham's disallowed goal didn't look offside and although the replays aren't conclusive the Millers can potentially feel slightly hard done by. In short, not all bad, but nowhere near the level of officiating we should be experiencing at this level.
Biggest positive to take
Alex Pritchard. For the last few seasons Norwich fans have been desperately trying to savour every second Wes graces Carrow Road and dreading the day his tiny legs can do no more. Pritchard looks like Hoolahan 2.0. Utterly awesome and could easily have shared the Man of the Match award with his new diminutive partner in crime.
It also underlined the fact Norwich now have ridiculous squad options to fill the attacking midfield berths. Jacob Murphy having a quiet game? Throw on his clone. Brady's still seeing double? It's alright, we've got Pritch. Wes is a bit tired? Maybe Naismith fancies a game. This is before you even consider Sergi Canos can't get near the matchday squad, Maddison is ripping apart the SPL and Jonny Howson is highly capable in the final third of the pitch. Suddenly Norwich have more number 10s than a boxing judge's scorecard.
Weekly whinge
Ok, its hard to now draw negatives from a situation where Norwich find themselves top of the tree, at least temporarily, but if we have to the clean sheet was there for the taking today.
The Millers goal was again outrageously avoidable. Pinto is caught upfield and jogs back, Russ doesn't look decisive in whether he should go to cover, Klose fails to attack the cross properly and Olsson doesn't sense the imminent danger so stays with his man. Meanwhile Dorrans looks like a rabbit caught in the headlights, fully expecting McGovern to lose his shit because of the lack of protection. A minor grumble, and its getting boring repeating ourselves.
Atmosphere rating
There is clearly a developing sense of expectation among City fans. Yes, we look a class above most in this division but that's no excuse to just turn up and wait to be entertained. At times today it felt like going to the cinema, sitting and passively waiting for someone to do something outrageous. A sense not helped we suppose by Wes and Alex consistently doing outrageous things.
The second half was an improvement, but even an 8 year old from the South Stand commented on how the Rotherham fans were out singing over 26,000 wearing Yellow and Green. Much improvement required, didn't someone once say we need a twelfth man here?
Summary
The first half was strangely subdued, partially because of Norwich's complete dominance. The pace of the game seemed somewhat akin to that of a preseason friendly, Rotherham were happy to invite pressure onto their creaky defence and it seemed like a matter of time before a cricket score would be racked up.
Unfortunately City were profligate with their chances in the first 45, and it was always likely the Millers would change things up tactically after the interval. Once they did this the second period was much more of a contest, but ultimately the quality the home side possessed was always likely to tell. Much less nervy than recent displays at the Carra, yet you still feel there's a few more gears to shift through.
You can follow Jon and Andy on Twitter @puntino & @andrew_lawn