Andrew Lawn looks back on some of the comments coming out of the City camp in recent weeks and compares them to our performances.

Is over confidence causing our under performance?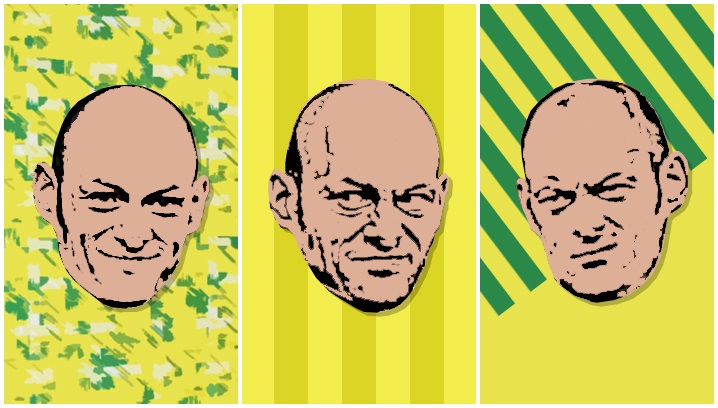 It struck me this week when listening to Martin Olsson discuss his new contract that City's problem this season might be the opposite of what I've believed has bedevilled us since Newcastle and Fulham away; namely we're too confident, rather than distinctly lacking in confidence.
In the interview, released if not recorded, after Derby condemned us to 5 defeats on the spin, Olsson said; "It's frustrating as we know we can beat most of the teams in this league".
Given the recent evidence, that is quite a confident statement to make old boy.
This confidence is mirrored in things Sebastian Bassong and Alex Neil has said after games too.
Following the Derby game Alex Neil said this; "We'll get through it". While Seb Bassong told the pinkun yesterday; "We went through a bad time but we are now on our way back up and the season is long. You know that, I know that, and in a couple off games we're not going to be talking about it any more because I know in a couple of games things are going to be totally different, so I'll see you there. "We will be up there fighting, there's no question about it."
Following the home defeat to Leeds, Alex Neil said this; "It's a difficult time but three weeks ago we were top of the league. I don't think I have become a bad manager in three weeks and I don't think the players have become bad players in three weeks either. We just need to raise our game and turn this around."
After Brighton; "It's difficult because just over a week ago we were at the top of the league, and everything was nice and rosy."
After an Ivo Pinto 90th minute goal sealed a 3-1 win over Burton in a start to the season that was always OK but Rotherham aside, never more, Alex said this; "There is more to come, I think there is but that bodes well for us because we are certainly doing enough to win the games. When we perform as well as we can we will be a real handful for anyone in this league. You have to treat games like this one in isolation. Everyone expects us just to turn up and beat them quite comfortably."
Now you may well argue, this is a stock sporting response in a world that requires positivity and these are people who would be right to be supremely confident in their abilities to have reached this level. You might be right.
But with the magical tool of hindsight, there appears to be a whiff of complacency about the whole thing. As fans and individuals we are guilty of it too. I for one felt that given Alex Neil's record in the Championship last time out, coupled with a stronger squad we would sail through this division.
My concern now is that Alex and his squad felt the same and continue to feel that if we just keep doing what we're doing it will all come good.
Alex went on after the Burton game to say this; "I think we deserved to win. We created a lot of opportunities to win the game but Burton made us work hard to win it. To be fair to them they played well at certain spells but we were the better side and when the game opened up we picked them off on quite a few occasions and should have scored more."
Now that statement possibly looks worse taken out of the context of what was a solid home win, but to me there is more than a hint of dismissiveness about the level of opponent. It suggests Neil is one of those people who expects us to turn up and win comfortably.
I don't believe that there is one magic bullet that will solve all our woes. It is not as simple as "Bring Ruddy/Howson/Ivo etc back and we'll be fine." I agree with people who say we lack leaders. I agree with those who suggest that two damaging defeats at Newcastle have inflicted subconscious wounds.
Most pertinently though, I agree with Darren Eadie when he, among others, calls City the least fit Norwich team he has seen. Looking at our performances through this prism of over-confidence and lack of fitness, could explain a lot of the problems we are seeing week in and week out including; switching off at set pieces, not running that extra yard, conceding late goals, conceding goals in pairs and looking beaten once the opposition take the lead. It would also provide an explanation for why earlier in the season, even as we won games, we did it without ever really gettting out of first gear and once ahead, switching off as if the game was done.
Never normally one to reach straight for the axe after a defeat, since witnessing the debacle at Brighton, I've felt Alex Neil's time is up. To me he appears a man lost. He knows he has the ability in the squad, but rather than a positive I think that is providing him with a false perception of what is required from here on in. Rather than keep doing what we're doing and trusting that it will turn because we are better than most in the division on paper, we need a radical attitudinal overhaul.
We look as if we don't have any answers to the slump, but it could equally be that we don't think any are needed and that just waiting, will be enough to see results turn as our ability shines through. At the end of defeats, the body language appears less hurt and angry and more confused and bemused.
So what's the solution? Would this be solved by changing the manager? Maybe. A new man might both provide a reality check and instil a new sense of purpose in exactly the way Alex did himself last time we were in this position.
Is it a simple case of not changing the manager, but giving him some additional help in the form of a sports psychologist? I'd argue not, purely in that my, albeit limited, understanding of sports psychology is around increasing confidence, whereas we may need the opposite.
We have the strongest squad I can remember at Carrow Road. A team littered with internationals, but perhaps rather than remembering that we should forget it entirely. Games aren't won on paper and however good we think we are, it's time to accept we're not very good at all when we blithely consider ourselves superior before a ball is kicked.
For me it is high time we all, fans included, remember we have no right to win promotion. We are where we are because that is where we deserve to be. Promotion isn't given, it is earned and right now we're playing, acting and AGMing like a toddler throwing a fit in the confectionary aisle at Lidl.
You can follow Andrew Lawn on twitter - @Andrew_Lawn