By
Jon Punt
Pre-season. You wait all summer for the "proper" football to begin, then quickly realise the friendly fixtures we've organised are nothing more than an exercise in bringing fitness levels to an optimum and trying out new systems. If you're lucky you may also see the odd youngster who more than likely will never get near the first team. Yes, the real business begins on 6 August and it can't come quick enough.
That didn't stop me venturing down to Carrow Road on Tuesday night though. Not because my love of the club couldn't keep me away, more so my 7 year old daughter was promised I'd take her back at the earliest opportunity. So at a paltry pound a ticket for under 12s it was a no brainer, and a nice move on the part of the club to make football so affordable to the next generation of Norwich fans. Well played Norwich.
I'll be honest, the moment I was looking forward to the most was having a decent look at the new giant TV screen, so when that wasn't in place I was mildly disappointed. There is however a gaping hole conveniently positioned in front of the Holiday Inn, bridging the gap between the away fans and the Lower Barclay where I'd imagine it will be situated.
Coincidentally where my Block E season ticket won't allow me to properly view it for the entire campaign. Oh well, half time viewings of Cam Jam's latest howitzer on a TV screen emblazoned with local advertising, making the actual football almost indistinguishable, will just have to do. Yes, I'm a grumpy old man if you haven't picked that up already.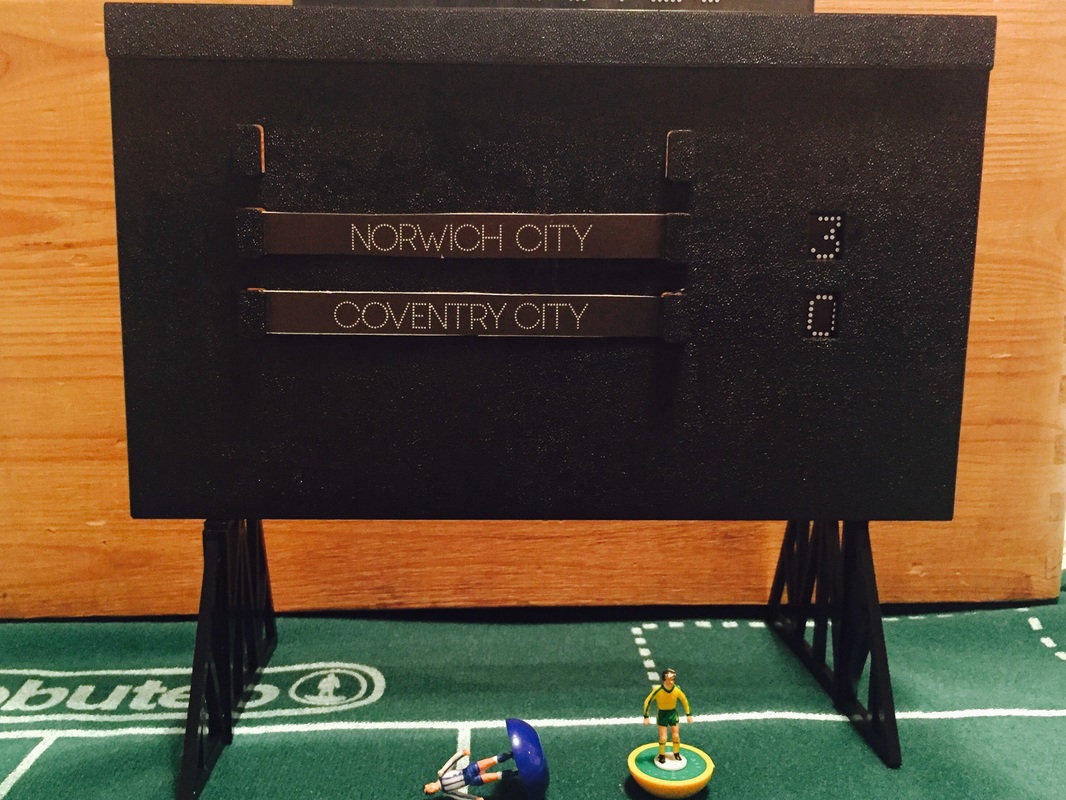 The match itself was attended by over 7,500 of the Canary faithful and predictably the evening was fairly devoid of atmosphere. No great surprise for a friendly. Norwich's first half performance was particularly strong, with a 4-2-3-1 system (or 4-4-1-1 if you want to be picky) asserting midfield dominance. A number of half chances were created without us really looking clinical, aside from Hoolahan's wonderful strike - who knew he could kick the ball that hard?
The second half defaulted into standard pre-season mode. Substitutions made for a rather disjointed affair against youthful opposition. Its very difficult to confidently take anything away from the match but the lasting impressions were as follows:
Kyle Lafferty is still massively shit. Plenty of workrate, very little end product or link up play. Plus he has a terrible new haircut. Can't fault the guy for effort.
Sergi Canos will be inconsistent this year. Full of endeavour and quick feet, could be a real prospect but let's be patient with him.
Wes is still god and gets younger by the season.
Ben Godfrey was assured but relatively untested as a second half central defender. For a man of his tender age he looked strong and took instruction well from Pinto and Bassong.
Seb Bassong played a full 90 minutes and didn't make a mistake - deal with it.
James Maddison could be a proper gem. Excellent awareness of what's going on around him and immediately has his head up after receiving the ball - on of the first signs of a good player. Plenty of flicks and tricks, and this was before THAT pass to Jacob Murphy late in the game.
J-Murphs - direct and purposeful, you have to feel this is their year to breakthrough (at last) Two composed finishes suggest their end product is improving.
Michael McGovern was untroubled for most of the evening. One smart save to make but very difficult to form any kind of opinion. One encouraging sign was his desire to bring the full backs into play higher up the pitch, particularly Martin Olsson. Employing this tactic during the season might see us getting on the front foot in quicker fashion.
Coventry's number 5 was no older than twelve. Seriously, how young was that lad?
In summary a decent workout but Saturday's test against Hanover 96 will provide a better insight into how we'll line up at Blackburn.
Atmosphere rating- 12 footballs (out of 100)
Performance rating - 73 footballs
Ability to blood the youngsters rating - 92 footballs
Follow Jon on Twitter @puntino