By Duncan Edwards

Walking to the ground I was surprised by the amount of Wednesday fans that had wasted their Saturday.
After all, if the Blackburn game was the benchmark they'd have trouble getting the ball let alone a result.
Football rarely works like that or, when you follow Norwich, it never works like that.
Now, let's get a few things straight. Wednesday had a decent enough season but I don't think they're THAT good. Next, Gary Hooper wasn't ever the answer to our striker riddle and he still isn't.
In terms of City, the fluency and sparkle from Ewood Park was replaced by hesitance, heavy legs and hoofs. Sheffield Wednesday didn't stand off and let us dictate as Rovers had and it felt far more indicative of the type of approach we'll encounter this season.
Narrow and compact when City had the ball, pressing to force a mistake and then opening up the width when they won possession. For all that this approach got them into some decent positions, they never really threatened despite being marginally the better side in the second half.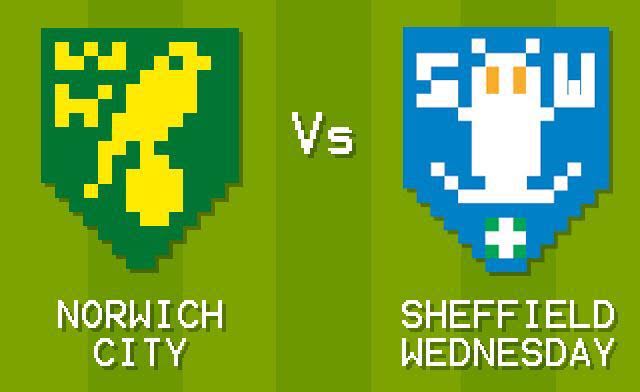 Norwich looked uncomfortable when rushed, we misplaced too many passes, Wes misfiring rather than mesmerising and Cameron Jerome seemed to have the flag in the air so often we might as well have stuck it on a pole.
Naismith still looks a real handful, Tettey broke the play up well but was often ponderous on the ball while Johnny Howson was quiet by his own standards.
Olsson got injured but the cynic in me says that he might have made more of it than necessary as he eyes a move. Ruddy got injured kicking the ball, McGovern came on and instantly looked like he'd never kicked a ball. He did improve.
Two forced substitutions eventually became three. The third not forced by injury but by circumstance and inaction in the transfer market.
If ever a substitution could be read as a "Come on, I need a hand.." then Mulumbu for Jerome in a home game at 0-0 was it. Cam is willing, strong and will score goals at this level but when it doesn't work we need to have options. I don't doubt that plates are spinning but the longer they spin the wobblier things get. We need to get this striker thing done before our plates hit the deck and our transfer policy, along with our promotion hopes resemble a Greek wedding.
Even then I wouldn't boo though, not like some who saw fit to in our second game of the season. Incredible. I can only think that they were trying to "rage quit" and then got disappointed when they found out you can't hit Reset and play the match again...
And that's pretty much it.
Apart from the screen of course, for all the piss taking about the big unveiling, it probably was the most exciting thing that happened at Carrow Road yesterday.
Still, roll on Tuesday.