There has been much talk during the opening weeks of Norwich City's season about the need to swell the striking ranks, so much so that the search for "a 20 goal a season striker" has become something of an obsession.
This mythical player that we don't have suddenly becoming more crucial than those we do.
The somewhat toothless performance against Sheffield Wednesday did little to quell the hysteria, particularly as we seemed to abandon the idea of playing with strikers at all once Cameron Jerome was withdrawn in the second half.
But how important is signing a new striker? Do we actually need one? Or is this search nothing more than a footballing wild goose chase?
It seems like fairly safe logic to say having a good centre-forward converting a higher proportion of the chances fashioned for him is going to increase a team's chances of success.
However, the supposed definitive link between us purging the coffers for a striker during this transfer window and us achieving our ultimate goal of promotion this season is probably a bit tenuous at best. Our recent history would certainly suggest as much.
In the 28 years I've been watching Norwich, an admittedly arbitrary period, a grand total of 4 players have managed to hit the equally arbitrary threshold of 20 goals in a season, they being Chris Sutton, Iwan Roberts, Grant Holt (who did it twice) and Cameron Jerome. Roberts also fell just short on 2 other occasions when he managed 19, as did Robert Fleck and Robert Earnshaw.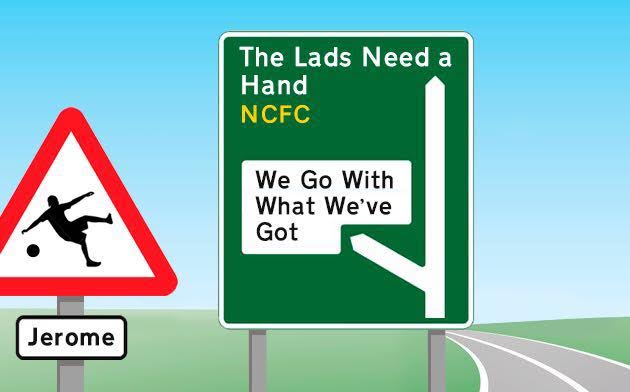 However, looking back through our rather sparse hall of 20 goal fame raises some interesting points that might be worth bearing in mind before we take too many steps along this potential wild goose chase.
20 goal strikers are rare. We've not even averaged one every 5 years, so they're pretty hard to come by. Food for thought for those who can't understand why we haven't plucked one out of thin air already this summer. The reason for this is you do actually need to be a fairly handy player to score 20 goals. Chris Sutton became the country's most expensive player on the back of doing so, his 25 goals for us in 1993-94 persuading Blackburn Rovers to part with a then-record lb5 million. Also, although we didn't know it at the time, Grant Holt was probably playing some considerable way below his level when he scored 30 times in 2009-10, as his 17 goals in the Premier League 2 years later would suggest.
A 20 goal striker is not a guarantee of success. Far from it in fact. Roberts scored 23 times in 1998-99, but the rest of the team only managed a further 46 between them. As a result, Mike Walker's rather ordinary side, Adrian Coote, Ged Brannan, Victor Segura et al, coasted in 9th. Conversely, when we achieved promotion under Nigel Worthington in 2003-04 (winning the Championship with 15 points to spare over 3rd placed Sunderland) our top scorer was Darren Huckerby with 14 goals, a player who was never really a striker at all, let alone a prolific one.
One of the few strikers to have managed 20 goals in recent times is Cameron Jerome, the very man that we seem to be trying to discard as part of this quest. Admittedly, he suffered a dispiriting season in the Premier League, but he's already off the mark with his "they all count" scuff against Blackburn. Furthermore, his performance against Wednesday, whilst admittedly lacking in goal threat, was one of the more combative on the night. Jerome could be forgiven for arguing that it shouldn't be his credentials being questioned. When we won promotion in 2015, his 21 goals were ably supported with 15 from Bradley Johnson. It's difficult to see anyone helping him out to that extent this season. For all his mercurial gifts, Wes Hoolahan has only scraped into double figures on 2 occasions, one of which was in League One, whereas Jonny Howson is yet to manage it at all. Unfortunately, Alex Tettey's screamers and curious toe-pokes will always be vastly outnumbered by his wild slices into row Z.
There are, of course a number of arguments to suggest that we could get caught with our trousers down if we don't reinforce our striking options this summer.
Even if Jerome were to rediscover his Championship-level mojo, one might still quite reasonably be concerned by our lack of depth up top. In Jerome's absence we'd look pretty threadbare in that department, as indeed we did with Steven Naismith operating from the centre-forward position on Saturday.
Furthermore, it goes without saying that supporters will always want to see progress in the right direction, and demanding a constant turnover of better players is part and parcel of this process.
However, we, like many yo-yo clubs before us, currently find ourselves in the position of comparative luxury, in that we have a manager and the nucleus of a team that collectively know what it takes to win promotion from this division, so radical change may well actually be our enemy this time around.
Splurging a heap of cash on some sexy go-getter up front will always look like an exciting quick fix, but history would seem to suggest that it's unlikely to actually be the answer to all of our prayers.
We should remember that the last time we went hunting for one of these curious beasts we ended up with Ricky van Wolfswinkel, still our most embarrassing investment despite now having a screen that none of us can see. So perhaps we should just be a bit careful what we wish for.