By
Ben Davey
I have to admit it, at 6:45pm yesterday evening I wasn't planning on gracing Carrow Rd with my presence on what appeared on paper to be yet another one of those 'the competition now known as the EFL' Cup banana skins.
However, a glance at Twitter and the announcement of the teams increased my intrigue,so I made a last minute decision to make the short trip down to the stadium and have a look at what a team made up of largely fringe players and potential outcasts could deliver.
Fortunately the queues around Carrow Rd I had feared after the announcement of a certain Northern Irish Messiah in the team did not materialise, meaning that I comfortably made it into the lower Barclay just in time for kick-off.
On an initial viewing of the line-up, the youthfulness of our line up was possibly the first thing that struck me, however the starting XI had over 2,200 league appearances between them, plus another 123 full international appearances.
Now granted the back five consisted of four players over 30 which clearly helped with the experience. However, the recent policy of recruiting young players from other clubs who have already tasted first team football, i.e. Canos (38 appearances in the Championship last season), Maddison (35 appearances for Cov) and Louis Thompson (90 appearances for Swindon) coupled with sending out our best youngsters on loan (Jacob Murphy, 77 appearances, Toffolo 42 appearances) quickly proved its worth. As the first half progressed we saw a team full of confident players, clearly intent on impressing the manager and staking their claim for more regular first team involvement.
Maddison and Canos were certainly the stand out players, the Spaniard in particular looks to have cemented his place in the first team squad with two excellently taken goals and an assist. It was also pleasing that approximately a minute before his first goal, he was in an almost identical position but chose a pass to an overlapping colleague who sadly was not on the same wavelength. Presented with a similar position just moments later, he backed himself and delivered.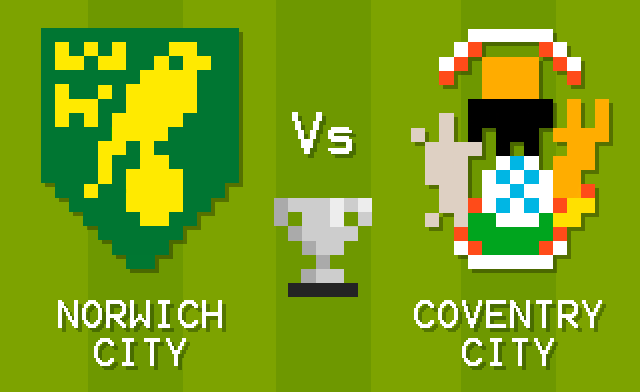 Maddison looks so comfortable on the ball and his vision brings other players into play. We really are fortunate to have the quality of Wes and Naismith who currently operate in a similar position but if they were watching last night they will be in no doubt that they will have to remain on top of their game.
Louis Thompson certainly grew into the match, he was harshly booked in the first half but did not let that stop him from getting stuck in and providing a solid base in the heart of the midfield.
Much has been written about Mr Lafferty, on last night's performance I think that he is worthy of being in the 18, he took his goal very well and played one or two nice passes, linking up play well. I was also impressed with how he conducted the lower Barclay to make themselves a nuisance for the Coventry penalty. While the manager has challenged him to follow up that performance, I guess ultimately his NCFC future will be decided in the next 7 days.
There were other notable performances from Jacob and Josh, the former took his goal sublimely. Josh may have given Alex Neil another line of thought with the work he put in as the lone frontman in the last 15 minutes and was unlucky not to get on the scoresheet himself.
Special mention must go to Ben Godfrey who unleashed an absolute thunderbastard on his debut and defended solidly in an unfamiliar Right-Back position. On the evidence of the 90 minutes the defence as a unit looked solid and will be more than good enough to step into first team duties as and when required.
Overall, while it is important not to get too carried away, what last night demonstrated was the depth of our squad should be something of envy to many of our Championship rivals. Granted there will be tougher tests ahead as the season progresses and injuries and suspensions start to bite but we should be confident that we have a group of hungry professionals, young and old who if given the chance are more than capable of stepping up when needed.
Keeping them all happy is another matter...
Follow Ben on Twitter @BenDavey79