By
Lee Payne
Norwich City have had eventful league campaigns over the last 8 years. In that time, they have been relegated 3 times and promoted 3 times.
What has remained consistent, though, is the club's capacity for letting cup competitions pass them by.
In that same 8 year period, City were knocked out of cup competitions in their first game on 7 occasions.
They reached the quarter finals of the League Cup in 2012, the furthest they had been since 1995.
Our FA Cup record is particularly bleak - exits at the first attempt in 5 of the last 8 years, and no further than the fifth round since 1992. Are we, as fans, that bothered by our team's ineptitude in knockout football? Or is there a real appetite for a cup run around here?
To get an idea, I did a poll on Twitter. Not particularly scientific, granted. There were 151 respondents, and of course I can't guarantee they were all Norwich fans. Of those 151, however, 51% said City should approach the EFL Cup (what they are now calling the League Cup) in a way so as to get as far as possible. 27% said the club should concentrate on the league, while 22% said they didn't care either way. So the majority want City to take the cup seriously and to try and go on a run.
When City fans made the pilgrimage from Norfolk to Wembley for the play-off final, I wonder how many of them thought that making it to the end-of-season promotion match was their best chance of seeing their team at the national stadium?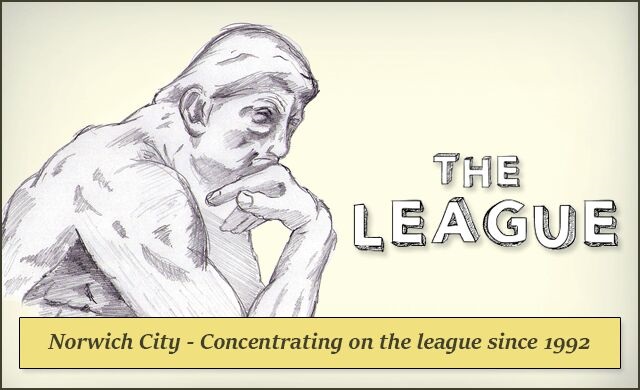 After all, we rarely threaten to get there in cup competitions. The play-off final was City's first game at Wembley since 1985. We would have played there in 2002, of course, were the stadium not being rebuilt, but the closest we've come in a cup for 32 years has been the Southern Section semi-finals of the Football League Trophy in 2009.
I doubt you need reminding, but Norwich were leading against Southampton going into stoppage time, only for Papa Waigo N'Diaye to equalise for the Saints. With no extra time in that competition, the match went straight to penalties which City inevitably lost. Southampton beat the MK Dons over two legs in the area final and then thrashed Carlisle at Wembley to win the trophy.
Our best League Cup performance since winning it in 1985, the 2012 run to the quarter finals mentioned earlier, promised much but ended in collapse.
By the luck of the draw, all of City's games in the cup that season were at Carrow Road. Having beaten Scunthorpe and Doncaster, they then impressively overcame Tottenham on Halloween. Just 16,000 fans were inside the ground, as many were protesting against high ticket prices, but those who were there saw Gareth Bale put Spurs in front in the second half, only for City to score twice in the final ten minutes to go through.
On an astonishingly freezing cold night in December, we took the lead in our quarter final against Aston Villa but went on to lose 4-1. Villa would be knocked out by Bradford in the semis, and Swansea would beat the Bantams in the final. It really could have been our year.
It's only from researching for this article that I have realised just how rubbish Norwich have been in the FA Cup.
We all hear about the famous 1959 run to the semi-finals, but we've reached that stage twice since then without ever making the final. Pat Nevin scored the only goal in a 1-0 defeat to Everton at Villa Park in 1989, when the game was somewhat overshadowed by the awful events going on in the other semi-final at Hillsborough.
In 1992, City lost 1-0 again, this time to Sunderland, who were in the Second Division at the time. Since then we've been as far as the 5th round four times in 24 years. It really is a sorry tale. If we manage to get past our first game this season it will be the first time since 2013.
I had hoped to provide some answers as to why Norwich as so poor when it comes to a knockout scenario. But I can't. It just seems to be a fact of life when you follow the yellow and green. It's very 'along come Norwich'. More often than not, if it's an early round of a cup and they are up against lower league opposition, along come Norwich to meekly exit with little more than a whimper.
For some reason, we don't have it in us to be a Reading or a Sheffield United, who have a knack of getting far in the cups.
We can always hope that this year might just be different. This might be the year that we go on a proper run, toppling the giants of English football as we head to Wembley once again. We can always hope. And it's the hope that kills you.