By
Stephen Curnow
Now the hullabaloo of the local derby is dissipating, Alex Neil will be back behind his desk today facing one of the familiar dilemmas for managers in the modern game, that of deciding how much to risk in a cup game during a season which will be ultimately judged on league position alone. In all probability, when Coventry City come to Carrow Road on Tuesday, Neil will go down the usual route of fielding a team largely made up of second-string players who could do with a run out, some promising academy prospects and maybe someone who needs some game time post-injury. The match itself will probably be of only passing interest to him and will pale into even more insignificance once our next league fixture comes around.
Iain Dowie dealt us a spectacularly uninspiring hand, drawing us against a lower-league team that we friendlied against just a few weeks ago, attaching an element of repetitiveness to the mundanity that comes as standard in the early rounds of what we now call the EFL Cup. The FA Cup continues to command a certain nostalgic esteem, a competition that teams that accidentally stumble through the opening rounds suddenly find an appetite for winning. But the League Cup, in its various guises, seems to be a perpetual irritant to everyone other than the eventual winner.
Clearly, this is partly due to the exacerbation of Premier League riches meaning that clubs are ever more compelled to prioritise their league position at all costs. The brutal reality being that 17th in the Premier League can represent a greater tangible success than picking up a trophy on a lush sunny day at Wembley. However, another lesser recognised factor in the ostracisation of the EFL Cup has been the gradual removal of the underclass of competitions that once saved it from being the runt of the litter.
English football has a longstanding appetite for expanding into other competitions, a road fraught with resistance and invariably destined for failure. Along this road we find the carcasses of Texaco, Simod, Zenith Data Systems and Screen Sport, presumably accompanied by the careers of their respective marketing directors. City's fair-to-middling status in the hierarchy of English football has meant our various fluctuations have enabled us to do some time in many of these arenas.
The first time we fell into this competitive quicksand was during our Texaco Cup appearances in three consecutive seasons between 1972 and 1975. This competition attracted a ramshackle assortment of British sides, the only stipulation being they mustn't have qualified for European competition, a forerunner to the Intertoto Cup we mercifully dodged, a pitiful consolation to losers worthy of a modern school sports day. So it suited us nicely in those days, City even qualifying once by finishing bottom of Division One with seven wins all season. Which must have been a trifle embarrassing. Our three seasons encompassed collector's items such as trips to Dundee, Motherwell, St Johnstone and even more curiously, a two-legged defeat to Ipswich. Can't have been that important then.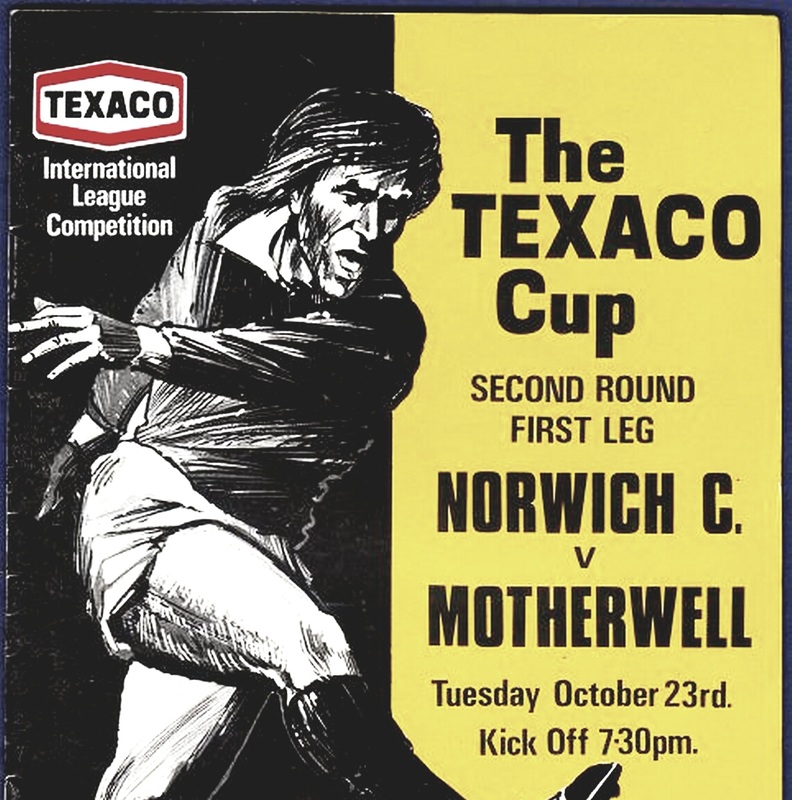 The real halcyon days for the pointless cup competition were undoubtedly the 1980's, when English teams being banned from European competition meant managers were frantically padding out their diaries to the point where they could get back to complaining about fixture congestion again. Our Milk Cup win of 1985 (that's a "major" by the way) was rewarded with us being spared the frying pan of the Full Members Cup and instead entering the fire into the Screen Sport Super Cup for 1986. We were grouped with the FA Cup holders, Manchester United (who were actually a bit rubbish at the time) and the reigning league champions Everton (who were actually very good.) It seems remarkable now that our starting eleven in our first game at Everton was exactly the same as in the previous league game against Hull.
Nevertheless, one win from four group games was a relatively half-arsed means to qualify for the semi-final. Having by then got the hang of picking a weakened team, we were beaten over two legs by Liverpool, with our centre-forward, one Paul Clayton, presumably not having the firepower to do the business at Anfield. The Mexico World Cup meant the competition had to be carried over until September of the following season, making it look rather like that one unwanted present left under the tree, but Liverpool eventually won the final against Everton in front of 20,000 at Anfield. That one of the few enduring memories of the competition was Ian Rush handing the trophy to a ball-boy probably tells you everything you need to know.
Our subsequent league mediocrity condemned us to the Full Members Cup for the following six seasons, generally featuring further mediocrity. This competition was intended to establish itself as a genuine fourth English domestic competition, but it was never more than an unwelcome imposter amongst the real three, a bit like that greasemonkey mechanic up there on the podium in Formula One.
Aside from an "Area Final" (not really a final at all, in case you were wondering) against Crystal Palace in 1991, and a semi-final (yes, an actual one) against Charlton in 1987,the competition gave us little joy. With hindsight, Ian Butterworth's own goal that denied us a trip to Wembley in '87 looks like in a blessing in disguise, as our magical day out last year was partly born of the beautiful symmetry of it being exactly 30 years since our last trip there, and that we'd done Ipswich in the semis again. I don't suppose that anyone would really have given it too much thought as Redderz rounded off those twenty-odd passes, but that particular something would have been lost from the back story if the likes of Mark Seagraves and David Hodgson had worn our colours at Wembley in the meantime. Fortunately, it wasn't a risk for long, as the competition was discarded in 1992 once the successive sponsorships of Simod and Zenith Data Systems ran dry.
Our brief sojourn into League One in 2009-10 allowed us to duck our heads below the parapet of the Johnstone's Paint Trophy, the erstwhile competition for the have-nots of the football league. Our first game in the competition saw Chris Martin and Goran Maric given the chance to stake a claim for more regular inclusion up front. Martin scored the winner and went on to get 23 that season. Maric got the hook after an hour and never played for the club again. A similar fate befell Jamie Cureton in the third round, as his winning penalty in the shoot-out at Swindon turned out to be his last kick of a ball in a yellow shirt, his decline from a promising teenager scoring with his first touch against Chelsea sadly complete. Having said that, he might have come in handy in the following round when we missed three times in a shoot-out defeat to Southampton. So that was the end of that.
However, in contrast to this assortment of banal curios to be filed under the "other appearances" column, the League Cup has been good to us, with two wins and three trips to Wembley. Let's hope it is afforded due regard by our manager and team on Tuesday. Of course promotion is the name of the game, but there are evidently much worse competitions to try and win.
Follow Stephen on Twitter @thecurnster