By
Jon Punt
The very nature of football fans is to be fickle, its in our DNA.
Cast a glance over to North London only yesterday and it wouldn't take you long to find a mouthy Arsenal supporter bemoaning the club's lack of spending, questioning the ambition of the board and the future of Arsene Wenger. Fast forward 24 hours and the imminent arrivals of Shkodran Mustafi, Lucas Perez along with a possible centre back and its all rosy again.
The dizzy world of football revolves quicker than most.
Over in Manchester Raheem Sterling's suddenly a good player again, after his horror show of a tournament this summer. It makes you think Sebastian Bassong is only a couple of decent performances away from being crowned King of the Carra.
Now this kind of capricious behaviour is not exclusive to London or Manchester, in fact it's rife in the fine city of Norwich.
On the back of his performances at the back end of last season Ivo Pinto is being touted as the next Cafu in some quarters of NR1. A fine player he may well be, but he's shown glimpses of defensive fragility which may be targeted by canny managers down the line. Out muscled for Stokes' consolation goal at Ewood Park and Kodija turning him inside out then hitting the post moments before Howson's winner against Bristol City leave question marks. The jury is still out for me, but I'm relatively confident he'll come good.
Conversely Steven Naismith is the new favourite social media scapegoat, and this only after a couple of average displays this season (I'm abundantly aware he was far from great during last term, but fitness may have played it's part in that.)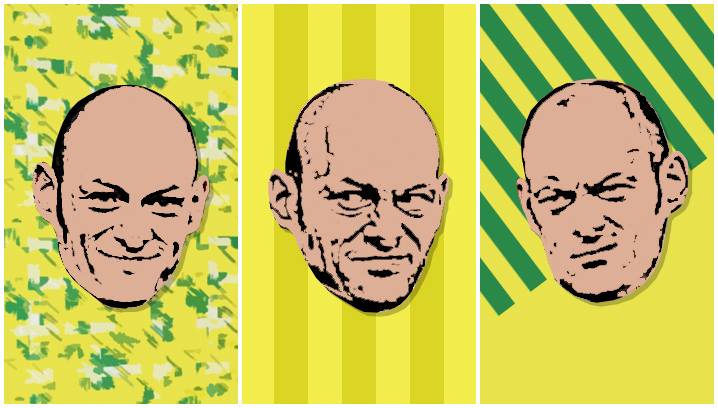 So lets rewind to August 6th. We'd comprehensively taken apart what now looks like a Blackburn side who will battle for relegation. A free flowing and expansive style of play was employed by the Canaries, with the plaudits deservedly received by Naismith and Hoolahan for their ability to link the play, create chances and make us tick. Some even started talking of 100 points and 100 goals with the two experienced campaigners at the heart of things. Yet just 3 weeks later and the Scottish international should be consigned to the bench, or the North East, dependant on how fervently you feel about the situation. I get it, an lb8 million outlay for a club of Norwich's size needs to yield better results, but you'd hope they're down the line.
Similarly Jacob Murphy started that match and showed signs of the promise we've all become accustomed to hearing. His pace was clearly well suited to play alongside the respective guile and artistry of Naismith and Wes. Suddenly the Murphy twins were to be integral to our Championship promotion hopes, filling the void left by Nathan Redmond. Finally the Academy production line was starting to bear fruit.
Then his sibling Josh puts in a couple of less confident outings and they're not ready yet. Shall we all make our minds up?
Even the style of play is up for derision. Let's not forget Ipswich and Sheffield Wednesday did very well against us tactically. They nullified much of Norwich's identity, the fact that we like to move the ball quickly with intricate precision won't be lost on most Championship managers and we're going to have to get used to teams trying to combat that. But that doesn't mean we should lose patience and start questioning the ethos of the club.
Now I'm as guilty of doing this as the next man. It's very easy to become drawn in to forming conclusions based on the microcosm of a couple of games. We'll all form snap judgements which will be proven to be wrong at some point in our time following football and we'd do well to remember that.
Patience is the key. Finally, having broken off the shackles of previous regimes, Alex Neil is starting to overhaul the squad in a considered manner. Now is his time to be ultimately judged, based on the side he moulds in his own image.
Quality is being added where we can, the signing of Alex Pritchard for a reported lb9 million fee underlines that. Planning for the future is in place with the likes of Maddison, Canos and Godfrey all suggesting they have bright futures based on their fledgling club careers before joining the club.
The only issue is progression can take time, and this is a luxury we can ill afford with parachute payments in place for only this season and next. Thus far, the fact we're unbeaten, have some defensive resolve and have picked up results when not playing at optimum levels bodes well.
The manager has to find a balance between being competitive at the top end of the league while making long term changes which will benefit the club. I for one think he deserves our trust while he tries to do that.
In the words of a formerly chubby northern singer song writer, "Just have a little....patience"
Follow Jon on Twitter @puntino