Louis Thompson showed his senior colleagues what is required with a Man of the Match performance in his first league start for the club against Leeds last Saturday.

Stephen Curnow looks at the one bright spot to come out of the latest Carrow Road debacle.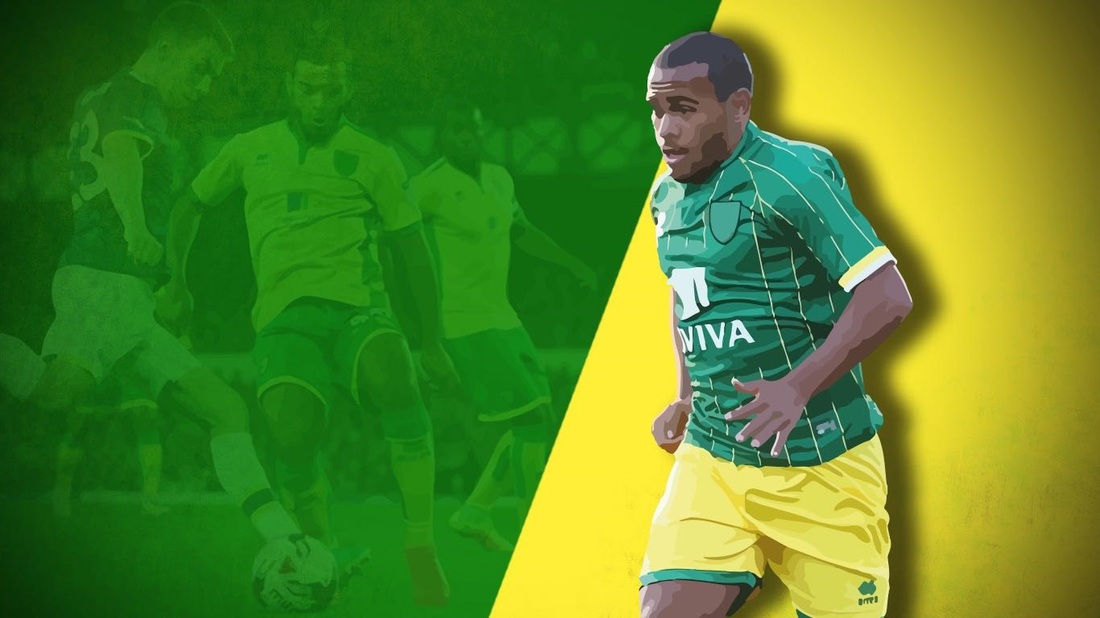 There were few surprises at the full-time whistle at Carrow Road on Saturday. There is an increasing feeling Norwich City, pre-season title favourites, are drifting towards the last-chance saloon having never really punched their weight all season. As a result, patience is wearing thin, and another defensive calamity snatching a third consecutive defeat from the jaws of a face-saving draw was only ever going to draw an unforgiving response from the increasingly disgruntled masses.
There was one notable exception though. Louis Thompson's gutsy performance earned him a remarkable exemption, the wrathful boos being temporarily replaced by rousing applause as he made his way past the Barclay at full-time. But it was for him and him alone. Rarely has the reception for one individual differed so distinctly from that of his team-mates.
Thompson's concession was well-deserved. Admittedly, his first league start for Norwich had started almost anonymously, with scarcely a touch in the opening twenty minutes. His game then grew through a few conservative passes before bursting into full bloom with a buccaneering run from midfield through the inside left channel, nearly creating the opening goal in the process. Its a struggle to remember when Alex Tettey last troubled opposition territory in such a fashion, although that's probably because it was rendered instantly forgettable by a wild toe punt. Thompson rounded off his performance by running the length of the field to make a remarkable goal-line clearance in injury time, most of his team-mates having long-since given up on the half-way line and the game already lost.
Of course, a plucky fresh-faced debutant is always afforded something of a free hit in such circumstances, partially due to not being associated with the failings that have gone before. Even if Thompson's performance had fallen short, the obligatory blame would probably have fallen upon the shoulders of a manager who shouldn't have asked so much of a player not up to it and some senior pros who didn't look after him out there.
As it was, Thompson standing head and shoulders above anyone else, both technically and attitudinally, just serves to cast his colleagues in an even murkier light. It raises again the questions about character and leadership within our playing staff at the moment. Indeed, the only other two players that dared to apprehensively venture towards the unforgiving territory of the Barclay End at full-time, Russell Martin and Wes Hoolahan, were given very short shrift. Hoolahan deserved better, and not just for the sentimentality of his 300th appearance but because he was consistently our one viable prospect of prising open a door that we were otherwise just banging our heads against. In truth, he was probably just unfortunate to be standing next to the hapless Martin, who bore the full brunt of following up his rant at his team-mates last week with a calamitous performance of his own, plenty of mouth but a bit short on trousers.
Thompson's emergence may be timely, as there appears to be something of a vacancy for a player of his type in our midfield at present. Jonny Howson deservedly won the Barry Butler award for our least awful player last season, but the deafening silence emanating from the treatment room suggests he's not going to be on the mend anytime soon.
Having been a forgotten man last season, Graham Dorrans has played himself back into contention with some measured performances this season, but he doesn't offer the energy and enthusiasm Thompson exuded.
Alex Tettey, whose latest suspension mercifully forced Alex Neil to select Thompson in the first place, offers considerable endeavour, but in four and a half years at Carrow Road has often failed to address the glaring technical shortcomings in his game.
Before Michael McGovern's final and decisive howler on Saturday, there was a feeling that Kyle Lafferty's goal might just have saved Alex Neil his job. Clearly, Neil no longer has that comfort. Remaining in football management is primarily about results of course, but to a lesser extent can also be about the kind of narrative a manager creates. Even if any hope of automatic promotion continues to slip away, Neil might be able to buy himself some time on enough decent results to keep us ticking over in the play-offs, if he can also be seen to demonstrate he is clearing out some dead wood and developing a team of tangible promise for the near future.
Thompson could be central to that possibility, particularly as Neil still has his James Maddison wildcard nicely tucked up his sleeve. Similarly, successful promotion campaigns invariably require a definitive talisman to rally behind. Darren Huckerby was a player of such supremacy that his fulfilling this role in 2004 was no surprise. Similarly, Grant Holt's boundless determination which served us so well in 2011 has made him an icon at Carrow Road. But Bradley Johnson emerging from the shadows to spearhead our success of two years ago proves that embodying a team going for promotion is not so much about a player demonstrating technical excellence, but instead showing he is on the same journey of hope, progress and determination as that of the fans.
Of course, we shouldn't get too carried away about young Louis just yet, not that wild optimism is our biggest danger judging by Canary Call. Ricky van Wolfswinkel had a reasonable debut don't forget and look how that turned out. But it's no exaggeration to say the difference between Thompson sliding back into the shadows of occasional EFL cup appearances, or emerging as a first-team regular of genuine promise, could have a significant bearing on the dominant story of this season.
For Alex Neil, it might be crucial its the latter.