By
Jon Punt
There comes a time in most children's lives where they crave independence. Going everywhere with mother or father becomes tedious, their cringeworthy jokes have become stale and they've recounted the same old bullshit embellished stories of their youth over and over again ad nauseam. The child understandably wants to explore for themselves, making their own unique mark on the world.
This point in my life came when my polite request to go to Eaton Park with my mates, a 10 minute walk at best, was steadfastly refused.
Mum: "You're not old enough Jonathan, you can't be trusted at the park on your own"
Me: "But Nathan's been allowed to go to the park for ages on his own and he's only a year older than me!"
Mum:"I don't care what other kids parents let them do Jonathan"
Me: "But, but , but, errrrgh, pleeeease?"
Mum: "I've said no Jonathan, that's the end of it. Now Blankety Blank is on, be quiet."
Me (while stomping up the stairs) : "I hate you, you've ruined my life! You didn't even get me a Megadrive for my birthday!"
Yes, I was a little shit for my parents at times. They'd probably say at the tender age of 38 I still am.
Now, notwithstanding the fact a couple of weeks of whining and pleading eventually saw me rocking my latest Adidas trainers over the park and competing admirably in a game of headers and volleys, I get the sense Alex Neil may have been playing at the same kind of parenting with our very own Josh and Jacob Murphy.
The twins progression has been stifled since their virtuoso displays in that FA Youth cup winning side. Many have clamoured for their inclusion in various starting line-ups or squads while their team mates from the 2013 Cup success have fallen down the ladder. Yet Neil has decided to play the waiting game, preferring to utilise the route of lower league loan spells to aid the talents brothers' development.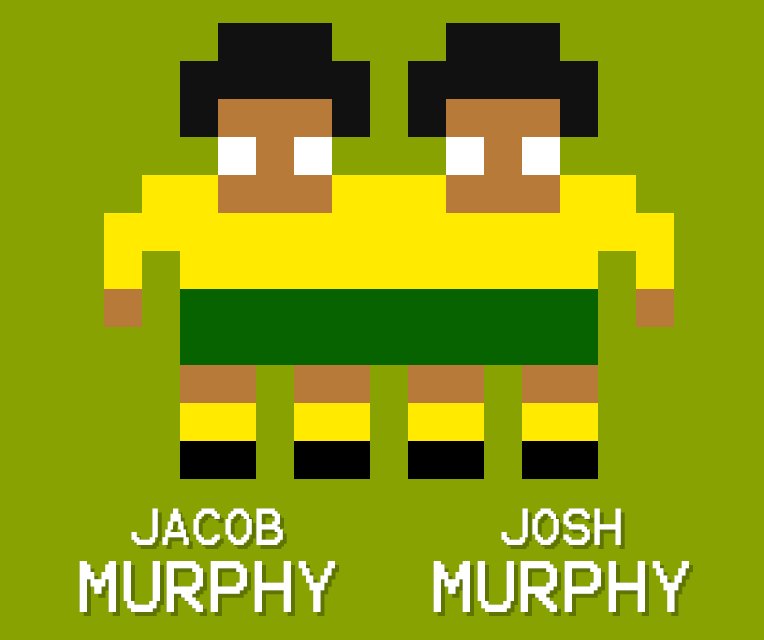 It's hard to argue against the manager's decision. The Premier League pressure cooker and subsequent relegation we've endured are not an ideal environment for young players to thrive. Many a player's career has been hindered or brought to a sudden end with too much, too soon. Better to relieve the burden, get the lads some regular football and hope they come good in the long run.
We all know the rest, Josh performed well at a struggling MK Dons side and took home Players' Player of the Year for his efforts. A great effort considering he was there temporarily, and testament to his ability to integrate into a squad. He also racked up 42 league appearances, infinitely more than had he hung around at Carrow Road with the older boys, hoping for a kick.
Jacob too saw his stock rise, at perhaps a more rapid rate than his sibling, linking up with City new boy James Maddison in a youthful Coventry side who played football in a progressive and expansive manner.9 league goals and a ten minute hat-trick against Gillingham saw him rightly lauded by Sky Blues supporters.
Most Norwich fans have a perpetual struggle with how to differentiate the two wingers, understandable given they're identical twins with similar hair-dos. On closer observation however they bring different and subtle strengths to their own games.
Josh is far trickier, more willing to try the unexpected, his delivery of crosses both composed and accurate. His brother Jacob is more aggressively direct, physically stronger in possession based on pre-season form and he certainly isn't afraid to have a go from distance. His thunderbastard of a strike at Ewood Park is testament to that. So why haven't they been given a go thus far?
Well what's changed in 2016/17 is the pair no longer have to endure the constant, monotonous, comparisons with Nathan Redmond. He's gone to play in a much bigger park with the Year 11s down South.
13 months their elder, Redmond's rise has been more meteoric, predictably given his unquestionable talent. A regular at England U-21 level, well over 150 league appearances to his name, a goal of ridiculous quality at Wembley, the Murphy boys were always destined to live in his shadow for as long as he remained at the club.
Redmond is a sublimely gifted footballer, in my mind of that there is no doubt. He divided Canary fans for one reason alone, he often found it difficult to make the right decisions in the final third of the pitch. Neither twin seems like they currently have that issue on recent evidence, but if they start to falter the hope is they're afforded slightly more patience given "they're two of our own."
Along with Harry Toffolo, both Josh and Jacob could well be the main beneficiaries of Norwich's relegation. Much like a loving parent, Alex Neil now has to trust the Murphys to roam free and cause mischief for Championship defences, hopefully most of all for our neighbours down the road.
So a plea to the manager from me, go and let them play on the park Alex.
I'm just hoping that, unlike me, they don't progress quickly to Marlboro Reds and cheap strong cider.
Follow Jon on Twitter @puntino