By
Ffion Thomas
As Norwich fans wallow in the splendour of a table-topping, four-goal-thumping away win on the first day back, the possibilities of the season stretch out before us in glorious Technicolor. Staying top from here on out? 100 points, 100 goals? We could go unbeaten in the league all term. The Invincibles. It's August, and anything can happen.
Hang on. Let me bring everyone back down to earth for a moment. First of all, none of the above is going to happen. To compound the cold hard reality, in January we are going to play in the Third Round Proper of the FA Cup, and we are going to lose. There is no doubt about this; it's just what we do, whether our opponents are Manchester City or Leyton Orient. Along Come Norwich.
But while our fleeting interest in the world's most prestigious cup competition remains months away, 368 clubs kicked off their participation this weekend. Poring over the names of the entrants at this stage is a joy in itself, with West Allotment Celtic, Harrogate Railway Athletic and Oldland Abbotonians among those only 13 wins away from a trip to Wembley in May. (Something that came a bit sooner for Daventry Town, who were perhaps intimidated by the occasion and 56-strong crowd as they were defeated 4-0 in the shadow of the arch at Wembley FC's Vale Farm home on Saturday).
A combination of factors, including perhaps the residual trauma of the climax to last season but also previous experience of a footballing day out in Blackburn, saw me opt to delay my return to Norwich-supporting duty for a week. Instead I chose from the smorgasbord that is the Extra Preliminary Round fixture list. One piqued the interest in particular; the World's Fourth Oldest Club versus the World's Second Oldest Club. Worksop Town v Hallam it was.
The claimed formation dates of both clubs - 1861 and 1860 respectively - pre-date the 1871 commencement of the FA Cup itself. These days Worksop Town - The Tigers - ply their trade in the Northern Counties East League Premier Division (the ninth tier of English football), with visitors Hallam - The Countrymen - a step below in NCEL Division One. Saturday's fixture also acted as a season curtain-raiser for both clubs, with the FA having brought forward the Extra Preliminary Round from its usual slot of the third week in August, meaning the league tables still read as zeros all round.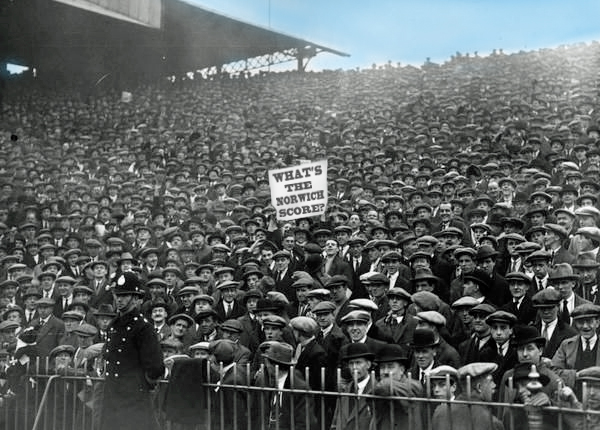 With only pre-season friendlies under the belt of many clubs and - with the summer holidays having barely begun - many players unavailable, this has not been a popular move. Indeed, some leagues had reacted by shifting their fixtures to commence before the end of July in order to give their clubs the best chance of progression in ties worth a not insubstantial lb1,500 to the winners. Perhaps these varying levels of preparation and squad strength provide partial explanation for some of the more chasmic scores of the weekend; Yaxley demolished Huntingdon Town 12-0, Ilford thrashed Burnham Ramblers 9-0 and - local interest klaxon - Gorleston succumbed 8-0 to Peterborough Sports.
Thankfully, it was to be a bit more of a level playing field at Worksop's Sandy Lane than at some of these other encounters. At this tier of the pyramid, that phrase is pertinent in more ways than one. Somerset's Chard Town, who should by rights play in this round, are barred from even entering the competition by dint of their pitch's Rio 2016 Cycling Road Race-esque descent, sloping as it does by 12 feet from one goal to the other (truly a sight to behold).
421 people would come through the Worksop turnstiles - admission lb5 - on this beautifully sunny Nottinghamshire afternoon. No tin foil trophy efforts in sight, but a few notches up the scale of Baudrillardian authenticity you could have your photo taken with what may or may not have been the real FA Cup, kept under a close and stern guard. Back along the corridor from this atmosphere of reverence the clubhouse did a busy pre-match trade, despite the caveat with every purchase that, for reasons no one has ever been able to fathom, at FA competitions (Cup, Trophy, Vase) at any level it is strictly verboten to drink on the terraces.
Kick-off was soon upon us and, of course, key to the afternoon's enjoyment was keeping up to date with events at Ewood Park. With one ear plugged in to a portable radio, the first task was hunting down a frequency that would provide the essential information. While BBC 5 Live seemed entirely preoccupied with events at the aforementioned cycling race, Talksport came up trumps with commentary of Forest v Burton, interspersed with the vital goal shouts from across the country.
Following Norwich via this method is an even more stressful experience than usual. At least when you're at the game, watching on TV, listening on BBC Radio Norfolk or even frantically refreshing your Twitter feed filled with Norwich fans, you are following its constant ebb and flow; the nasty surprises are few and far between, unless the game is Norwich 4-5 Liverpool. However, tracking a game via the intermittent updates of national radio or Sky's Soccer Saturday on a busy matchday represents a completely changed dynamic. Much like the interminable old-school wait for the score pages to tick over on page 305 of Ceefax, there are few things more heart stopping than the words 'And there's been a goal at...'
In the space of 13 minutes in the first half on Saturday, I heard that phrase suffixed with '...Ewood Park' three times. Thankfully, each time it was to report yet another Norwich wonder-goal, and I hopped around the terrace in relief and celebration as the reporters waxed lyrical about our play.
With no concerns on the Norwich front other than whether another team's goal difference might dethrone us, it was easy to enjoy the game in front of me. Hallam weathered an early storm and were more than holding their own against higher-level opposition; ten minutes before half-time the cupset was on as they took the lead via a back post tap-in. The ball was in the Worksop net again minutes later, but celebrations were curtailed by the offside flag.
Hallam's half-time bubble was burst when Worksop came back with two quickfire goals on 46 and 52 minutes, but midway through the second half a free-kick was curled into the top corner to momentarily silence the noisy home fans. It couldn't last, though. With 15 minutes to go and both teams tiring in the heat, a Norwich-esque defensive lapse saw Worksop retake the lead with an easy free header. Hallam's fate was sealed shortly afterwards by the pick of the goals, a mazy solo run where seemingly their entire midfield, defence and the keeper were rounded before the ball was slotted home for 4-2.
A well-deserved win for Worksop, then; the next step on their road to Wembley is the Preliminary Round, which takes place a week on Saturday. Already confirmed is Norwich United v Histon, with other regional match-ups subject to replays this week. With our very own fixture against a motley bunch of fallen-from-grace local minnows who are praying for a giant-killing pushed back to the Sunday, you can guarantee an enjoyable FA Cup experience at least once this season by heading to a game on August 20th.
Follow Ffion on Twitter @ffion_