By
Cory Varney
Dean Ashton. Robert Earnshaw. Carl Cort. Cody McDonald. Grant Holt. Simeon Jackson. Ricky van Wolfswinkel. Gary Hooper. Lewis Grabban. Cameron Jerome. Dieumerci Mbokani. And, of course, the eagerly anticipated TBA and his potential counterpart, TBC.
There's a reason I end up with about six or seven strikers on Football Manager. With the exception of big Timm Klose, they're the most exciting of signings. They get the hearts racing. They get the tongues wagging. In truth, they're the ones most likely to be the hero come the end of the season. The ones to fire us to promotion.
You go to football for goals. That's what gets you off your seat more often than not. Simeon Jackson against Derby County. Grant Holt smashing home a treble against Ipswich. Cameron Jerome's opener against Middlesbrough at Wembley. There's more, but after any successful Saturday, you trot home, replaying the goals in your mind, still feeling that wondrous buzz. If it's a really big goal, you're remembering it for years and years to come.
They're the providers of memories. The name on the back of the shirt. And with the exception of Cameron Jerome, who did a sterling job last time around netting over 20 goals, since everyone's favourite Cumbrian left for pastures new, we've not really had a striking hero we could get behind. The number nine shirt has proven a poisoned chalice. Despite Ricky van Wolfswinkel's dazzling good looks, he just couldn't score. Kyle Lafferty came next, eventually leaving on loan with only one goal to his name before Dieumerci Mbokani was handed the task last season. I liked Dieu, but we didn't see the Newcastle Mbokani enough.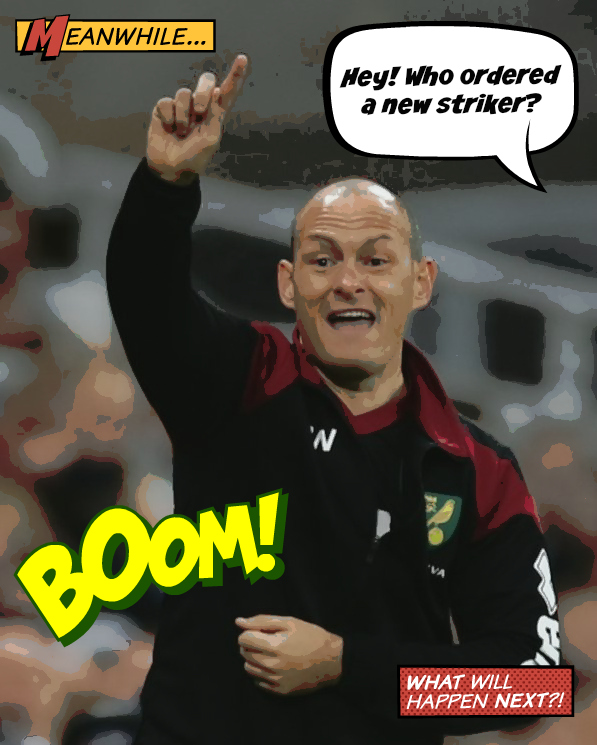 More than any other season in recent memory, the (eventual) arrival of a new number 9 feels like it carries that extra bit of weight. The trail of failures since Grant Holt has certainly got me hoping this is going to be fourth time lucky, while the fact that we've not signed a permanent striker under Alex Neil makes it feel somewhat overdue. Sure, we've tried. Allegedly Dwight Gayle could have made the switch to Carrow Road last summer, after the Benik Afobe saga dragged on. Sebastien Haller was an odd one in January that didn't really go anywhere. There were rumours about Steven Fletcher this time around, before Ross McCormack grew increasingly tedious and didn't even have a happy ending.
But, at last, it seems as if we will have a new striker through the door. One to keep. Eventually.
It's a critical addition going forwards. The elusive number 9. The missing piece to our pretty good looking puzzle. While the weekend's impressive mauling of Blackburn should ease concerns that we've got a lack of firepower, what we don't currently have are options up top. In an ideal world, we'd have another 45 games like that one on Saturday but I think we all know that's highly unlikely. Therefore, Cam is going to need a hand, we're going to need something different up there and more than anything, we need someone else who can score a lot of goals.
We've had a flurry of names thrown at us. It's rather like being stood in front of a pick 'n mix selection and just not knowing where to stick your money. I'd hazard a guess that messrs Moxey, Balls and Neil have a rough idea.
However, whether it's Wells, Assombalonga or my personal favourite Gorgon, with the likes of Wessi, Naismith, Pritchard, the Murphys, Maddison and Canos creating behind them, I'd be cautiously optimistic our new number 9 would be a little more Iwan and Holt, rather than another expensive flop.
Follow Cory on Twitter @iwritethings23