An awful fortnight for those of a yellow and green persuasion has many calling for the manager to get the boot. Jon Punt considers whether the masses have a point.....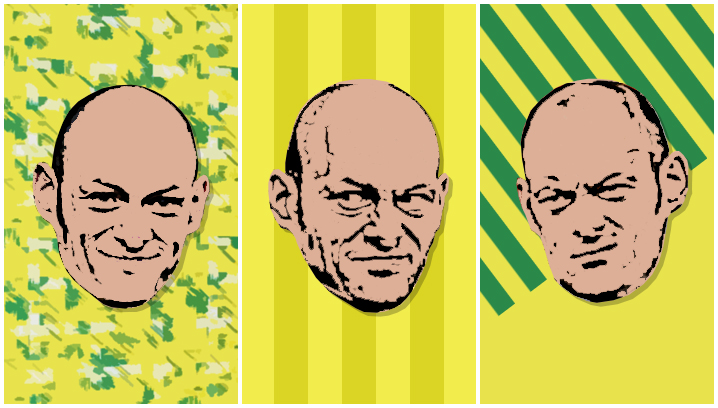 Let's not beat around the bush, Saturday's no show at the Amex was horrific, like a terrible car crash being played out in slow motion before our very eyes.
Russell's Martin's post match comments were as insightful as they were terrifying. Some of the players seemingly gave up, which is unforgivable on a Sunday morning in the Norwich and District League, let alone in the second tier of English football.
Add to that the capitulation at Fulham, along with a below par display against Preston, and it's been an infinitely forgettable few days for Norwich City fans.
With all the ineptitude or carelessness on show, it's no surprise the knives are out; the negative masses have finally circled. What should have been an enjoyable day out in East Sussex was the last straw for many, and calls for the manager's head were an inevitability. Understandable? Yes. Knee jerk? Probably. The best way forward? No, not in my opinion.
I understand the issue an increasingly large number of fans now have with the manager. The same mistakes are being repeated, Norwich regularly fail to defend set pieces adequately and some of our play has been as slow as a drunken pensioner crossing the road in front of you when you really need to get to work.
The thing is, I just can't subscribe to a train of thought that calls for Jez Moxey to take his first serious decision as Chief Executive and give Neil his marching orders. , At least yet. Call me a happy clapper, call me an apologist, it's fine. Heck, even call me a twat with my head in the sand if you like, with a surname like mine I've been called a hell of a lot worse.
Alex Neil gave me the 4th best day of my life, I'm guessing for some of you reading this it was right up there with the most memorable occasions of your existence too. Now nostalgia shouldn't play a crucial part in decision making when it comes to football, but it wasn't just about Wembley 2015. The trip to the national stadium was a culmination of a truly remarkable upturn in form for City. Having found himself with a bunch of professionals that were out of sorts, didn't want to be here or were simply lost, the manager somehow found a way to galvanise the squad and drive us onto the next level. For that he should be forever remembered. Now he has to do exactly the same thing again, possibly dropping the players who served him so well last time out in this league. Neil has signed or at least brought through younger players, now may be the time for a Louis Thompson to step up, or a James Maddison to make his mark in 2 months' or so.
It's also worth considering what we want from the man in charge. Neil is searingly honest, wants to play football in the right way and readily admits when he's made mistakes. He seems to value the same set of ethics in his players, who have often let him down. His treatment of Bassong during the 2014/15 campaign was excellent, knowing exactly what was required to pull the man into line and it proved to be a managerial masterstroke. Shotgun Seb was part of a side who boasted the best defensive record in the league after Neil's appointment, with plenty of clean shits recorded (full marks if you get the reference).
The Premier League season was a steep learning curve for someone so young. Ultimately Neil failed, a point he was quick to highlight himself, yet the board decided to give him another opportunity. Most were in wholesale agreement with the club's call. A steady flow of water has passed under the bridge since then but we're not at Aston Villa crisis levels just yet. Continuity often breeds success, Sean Dyche's Burnley are currently testament to that.
Outsiders looking in it would deem like strange behaviour to even contemplate handing the gaffer his P45 after a remarkable September. The Murphy boys had finally come to the party and results were positive. The poisoned chalice that is the manager of the month award was deserved. We sat atop the division only a fortnight ago.
Change is easy, but that doesn't mean it is right and getting rid simply underlines where we've arrived as a society. The kind of throwaway X Factor bullshit where people's heads are on the chopping block week after week. The Lord Sugars among us might be wanting to give the manager the full Apprentice finger treatment, and not in the good way. Now is not the time to don the latex gloves and lube up Alan's dirty digit.Fans want to see some kind of action, something being done to eradicate what happened on the south coast last Saturday but action for action's sake is not productive. For my money Neil might be only a shitty showstopper away from a Paul Hollywood bake off moment but to call for his sacking now feels premature. It merely confirms the disposable nature of modern football. Come on, we're better than that, we're Norwich City.
Even if we're not better than that, is there anyone more qualified or astute who'd be up to the task? A post Culverhouse Paul Lambert is currently stealing a living from the mid morning slot on Sky Sports news. Without his capable deputies he's nowhere near the manager we once revered. Malky or Big Sam aren't even worthy of consideration given their moral compass and don't get me started on a Giggs or a Sherwood. In fact the only viable candidate that stands out is Mark Warburton. Whether he'd want to ditch making bread for a gig in Norfolk isn't exactly crystal clear either. But with all that being said an argument based on there being no-one better out there is no argument at all. I still believe Neil is the right man for the job, at least for now.
The manager knows what the issues are, he'd be foolish not to.Whether he can address them fully, or even has the opportunity to, between now and January remains to be seen. However, most impartial observers rightly laud the depth of the squad we possess.We have to trust while we're still finding ourselves our quality will be enough to win most games. Then when the currently creaky Carrow Road juggernaut slips into 3rd or even 4th gear we might just be ok.
The challenges for the Scot have been brought into a brutally stark contrast of late. Performances haven't been of the required standard for much of the season and for that Neil must carry the can. He also needs time to examine whether he's burdened by a lack of professionalism from some of the more senior players at the club. Have they let him down, or has he failed to manage their egos appropriately? It's probably a bit of both, and if the weekend's result fails to electroshock both parties into life then his time in Norfolk is surely limited. For now though, he's still the man for me.
Brighton had a familiarity about it when it came to the feeling it generated. Almost like the beginning of the end which called time on Nigel Worthington and Chris Hughton. Neither of those gambles ended well, for now it might just be worth deciding to stick, or there could be a particularly nasty twist.