The Murphy twins' start to the season has been fabulous. However, their recent downturn in form has coincided with Norwich's dismal displays of late. Stephen Curnow asks if rather than spurring each other on, are Josh and Jacob holding one another back?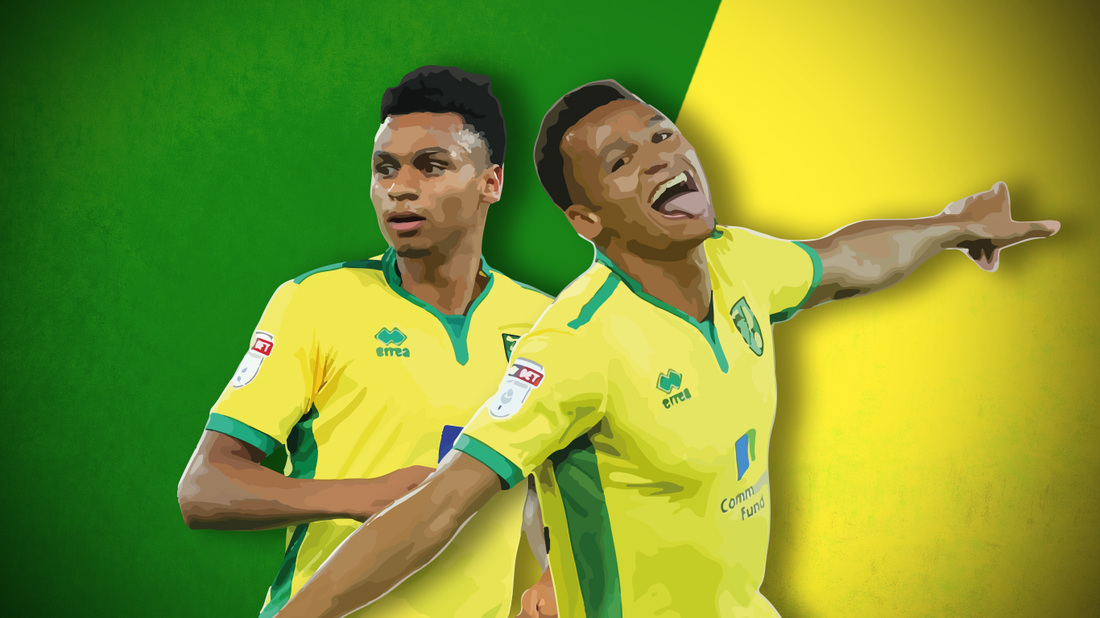 Conventional wisdom would generally have you believe part of the recent progress made by Norwich City's twin wingers, Jacob and Josh Murphy, has been their gentle desire to each out-do the other. That the progress of one gently nudges the other to raise his game and follow suit. There is some evidence to support this notion. For example, when Jacob raised the bar by scoring on his first two starts this season, Josh then replaced him against Cardiff and, suitably cajoled, delivered a fine goalscoring cameo. He then followed it up a few days later with perhaps his best performance to date andanother stunning goal against Everton.
However, as the momentum of their sparkling start to the season fades a little, there may be a viable counter argument that the reverse is true, and that each is actually being impeded, in some small way at least, by the presence of the other.
Clearly, being mistaken for the other one is a bit of an occupational hazard for an identical twin. But this is a particular disadvantage when, like the Murphys, you are trying to forge a career in professional football. The fact they fundamentally play in the same sort of positions doesn't help of course.
This in itself is somewhat unusual in English football, with perhaps only Rafael and Fabio da Silva arguably having faced the same problem. Rodney and Ray Wallace played together in the same team at Southampton, but they had the decency to have Rod on the wing and Ray at right-back, and Rod was a good bit better. Dean and David Holdsworth might have been indistinguishable to their own mother in their Watford shirts, but she would have had to have had a pretty poor knowledge of the game not to notice that one was a forward and the other a defender. The infamous Futcher twins of the 1980's, Ron and Paul, took a lot of persuasion to be prised apart, being jointly transferred from Chester to Luton and then on to Manchester City. However, they also conducted their business, which was mainly smashing their opponents, at opposite ends of the field.
Unfortunately for Jacob and Josh, their virtual indistinguishability means that they rather get tarred with each other's brushes. Let's be honest, there are probably very few of us who can reliably say which is better at tracking back, which is better using his wrong side or which one takes a better corner? It's simply easier to assume they're both quick, a bit one sided but guilty of rather too many poor final deliveries, however inaccurate that might actually be. As the song goes;
"They're the Murphy twins, the Murphy twins, when they're on the pitch we don't know which is which, they're the Murphy twins".
Strangely, there seems to be little appetite from the Murphys themselves to precipitate any particular differentiation. Neither has ever even gone as far as getting a different haircut and they have long since dispensed with the different coloured boots Chris Hughton insisted upon. The fact that neither has either of them made any obvious attempts to modify or distinguish their game just adds to the general sense of cosiness and inertia.
Furthermore, the comfort for each of having the other there might well have made them a bit, well, comfortable. Getting a bit too used to the idea you are something a bit special happens to many footballers of course, but the Murphys might be particularly susceptible. Spending their formative footballing years on the desolate plains around Downham Market, they would have been a remarkable sight indeed, especially when you bear in mind the best spectacle prior to them was probably Micky Carroll trashing a Cavalier in his back yard. However, their progress since starring in Norwich City's FA Youth Cup win of 2013 has been undeniably slow.
Josh made his debut in September 2013 and Jacob in January 2014 yet until the start of this season they had made precisely 1 league start for Norwich between them. They have been loaned out on a combined total of 8 times with only sporadic success, their respective contributions probably not living long in the memory at Southend, Wigan or Blackpool. Jacob's 10-goal stint at Coventry last season probably represents one of the few spells which has delivered any sustained momentum, as it seemed to propel him ahead of his brother in the pecking order and into our starting XI for the first time when this season kicked off at Blackburn. Josh of course was to perform capably a league higher while at MK Dons, yet his brother's progression seemed much more rapid.
Comparing them to their predecessor Nathan Redmond might be a bit unkind, especially since Redmond's somewhat surprising evolution into a bona-fide Premier League striker this season. Nevertheless, Redmond is less than a year older than the Murphys (who were born on the same day you see) yet he has made over 200 senior appearances, represented his country at Under-21 level 32 times, amassed over lb13 million in transfer fees and smashed in the best goal ever seen at the new Wembley.
One can't help feeling it's now or never for both Josh and Jacob. Being involved with the first team this season while so many others would have been loaned out seems to suggest that the apron strings to Neil Adams perpetual merry-go-round have finally been cut. They each now have a genuine chance to establish themselves at their parent club. This might be especially true while our incessant dilly-dallying in the transfer market and the feeling we have already maxed out our budget makes any significant influx of talent unlikely. But failure to nail places down this season would incline you to wonder what next for these boys, with the looming concern they could become some sort of novelty act, curious to look at but ultimately lacking in any worthwhile substance, the footballing Krankies.
Whichever way round you choose to rank them, these two players represent our best chance of agenuine home-grown superstar since Craig Bellamy upstarted his way out of our recalcitrant academy in the 1990's. But they're not Bert and Ernie, so unfortunately there's no guarantee that they'll live happily ever after. Let's hope for Norwich City's sake that individually and collectively they've got what it takes.
You can follow Stephen on Twitter @thecurnster