As we launch a t-shirt featuring the names of City legends, Andrew Lawn asks, is it time Carrow Road got a statue honouring part of our 114 year history?

If so, who or what should we honour?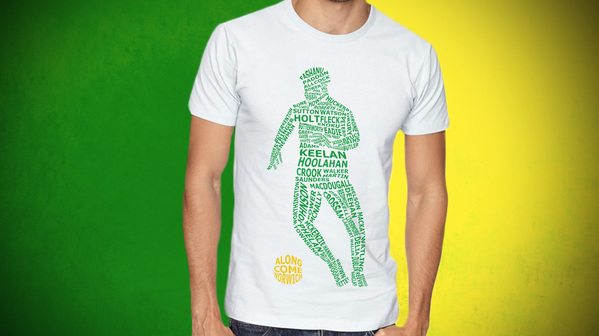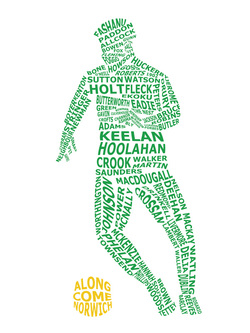 As you may have seen this week
we launched some t-shirts to help us cover the cost of running AlongComeNorwich
. The design called for a selection of famous (and some infamous) names from Norwich's 114 year history.
As we wracked our brains, and yours, for worthy (no pun intended, although he did make the cut) additions to the shirt it got me thinking about statues.
Not because we considered Russell Martin and I was reminded of our recent defending of set pieces, but because unlike lots of clubs, statues commemorating figures from our history are currently lacking around Carrow Road. But who or what would best capture a moment of our history in bronze?
Beginning at the beginning, we could go super niche and cast Arthur T Smith sitting at a piano composing On the Ball City. Smith would go on to be one of the early Directors once City followed the chant into existence.
Jumping 57 years, during which I have probably overlooked a couple of big moments and key players in our past we reach 1959.
Then in the Third Division, City famously knocked the Busby Babes, Spurs and Sheffield United out of the FA Cup en route to the FA Cup semi-final. Heroes of the run include; Terry Bly, Erroll Crossan, Sandy Kennon, Bobby Brennan, Barry Butler and Terry Allcock. All famous names, but the lack of photographs from the team make it difficult to picture any particularly iconic scene which could be captured.
From the cup run until the modern day City fans have enjoyed some of the finest players at Carrow Road, including England's World Cup winning Martin Peters, cult hero Kenny Foggo and goal of the season smashing Justin Fashanu. All of which would be worthy cases, but without resorting to the holding the ball, or trapping it below a boot pose, none of which would make for an easily recognisable moment in time. For example the precision, whip and power of Fashanu's volley was barely captured by Match of the Day's TV cameras, how do you then portray that in metal or stone?
For easy capture and iconic City scenes you perhaps need to look to our modern history.
How about Steve Bruce rising to smash home a Milk Cup semi-final winning header, or the players dancing with the cup on the Wembley pitch having gone on to finish the job against Sunderland?
For a more dramatic offering, imagine if you will Jeremy Goss mid-volley, perched on the entrance to the bridge on the corner of Carrow Road and Wherry Road. From the same game, we could have a piece recreating the beaming smiles of Mike Walker, Rob Newman and Goss as they made their way off the Olympic Stadium pitch.
If smiles are your thing, what would cheer City fans up more on their way into and out of Carrow Road than a bronze 6 foot Grant Holt chuckling away as we demolished Ipswich 5-1 at Portman Road? Or a tracksuit clad Paul Lambert fist pumping another win during historic back-to-back promotions?
Bringing the suggestions right up to 2016 and breaking with the tradition of not including opposition players in statues, Wes sitting half the Rotherham team on their bums and rolling the ball home, would be a dramatic, if large, addition to the area outside the Holiday Inn.
If players aren't your thing, then a microphoned Delia outside the Gunn Club urging vocal support from fans about to enter the Snake Pit or Barclay Lower would be an excellent way to honour someone who, however you feel about her now, saved the club 20 years ago. Geoffrey Watling and Arthur South had stands named after them (yes, the South Stand was apparently already known as the South Stand, but came to be seen as apt given the contribution ofArthur South to saving the club. It also has an eastern geographical position so makes sense). A waltzing Ed Balls can wait.
There must be more, so we're asking who or what do you think should be considered if the club were to consider one (or two)? And does the statue campaign start here? Rather than protest about Trump should we rally en masse for the glorification of one of our own at Fortress Carra Rud?