The international break is finally over and we can all go back to being miserable on Saturday evenings again. Yay.

To get us in the spirit, here is David 'Spud' Thornhill's knowledge laden preview of a fixture we play A LOT.
So Saturday we head to Loftus Road to face Queen's Park Rangers. Alex Neil needs a win and possibly as importantly a clean sheet, not least because the last time we lost here, the manager (if you can call Peter Grant that) lost his job the very next day.
This Saturday's fixture will be the 120th game between Norwich and Queens Park Rangers a fixture we have played more than almost any other (we have only played one opposition team more, Coventry City, who we have played 121 times).
Norwich lead the way with 45 wins to QPR's 35, with the honours being even 39 times.
The first match between the two clubs was back when City still played at Newmarket Road in the Southern League and saw Norwich running out 4-0 victors.
After that the two sides met regularly in the Southern League, playing each other each season with the exception of during the First World War years, before both clubs entered the Football League and Division Three South in 1920.
Norwich's biggest win over QPR is 5-0, a thumping we have dished out twice, both coming back in 1924. In April of that year revenge was in the air as we beat them 5-0 just three days after they had beaten us 2-1. That season QPR finished bottom but there was no relegation unless the club resigned their league status or were voted out of the league, meaning the Hoops survived to be walloped again just eight months later on Boxing Day. That victory also followed a short turnaround in meetings between the clubs as we had also beaten them 2-1 a mere 24 hours earlier. Maybe we were fitter then. Or the game was slower. Or both.
QPR's biggest victory over Norwich was also pre World War 2, back in October 1933, when they won 5-2 over the Canaries. Although we would have the last laugh that year and went onto win Division Three South, earning promotion to Division Two for the first time.
The clubs met back in the same league again just after the war. Norwich avenged the 5-2 defeat when they repeated the scoreline against the R's in April 1948. Roy Hollis made his debut and scored a hat-trick, becoming one of only three Norwich players to do so on debut. Oddly enough, like Norwich in 1933, the 5-2 defeat didn't affect QPR as they went onto win promotion. Perhaps a 5-2 thumping Saturday would be a good thing for City? What do you think Mr Neil?
Norwich's first ever League game on Match of the Day came against the Hoops, of course QPR won the game 2-0 and our terrible TV record was born.
One of the most significant encounters with Norwich in QPR's history was on April 17th 1976 at Carrow Road. Ask any Rangers fan of a certain age and they will pinpoint this as the game that lost them the First Division Title, in what was their best ever season. QPR lost 3-2 with Norwich's third goal from Phil Boyer hotly disputed. Only a few days later Liverpool snatched the title, to date it's the closest Rangers have come to being crowned Champions of England. Sorry.
In October 1984, just two days after a fire in Norwich's main stand, QPR visited Carrow Road. A large amount of behind the scenes work took place just to get it the game on. This involved moving season ticket holders from the Main Stand and getting last minute safety approval from the local authorities. With the home dressing room being damaged, Norwich players used the Police Safety Room as an alternative. QPR's playing staff were asked to used The Nest pub which was behind the Riverend stand in what is now Yellows. Norwich ran out 2-0 winners with goals coming from Mick Channon and John Deehan.
In August 1989, during a dull goalless draw, the game was delayed by a female streaker just before kick off. Predictably it got the biggest cheer on a dour afternoon.
Latecomers to the Carrow Road encounter in August 1998 potentially missed 4 goals as Norwich raced into a 3-1 lead in only the 8th minute. Norwich went onto win the game 4-2 with Craig Bellamy netting a hat-trick.
On a personal note. I have been to QPR on 14 occasions plus one postponed match, spanning 1990-2012, when I finally saw my first and only victory at Loftus Road. I only missed four games in that time and low and behold Norwich won ALL FOUR GAMES.I honestly believed there was a conspiracy against me and I was never going to see Norwich win there. That was until Joey Barton's breath became offensive to Super Bradley Johnson and I finally saw us win 2-1 with goals from Anthony Pilkington and Steve Morison. Those were the days my friend.
---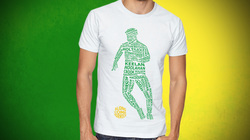 While you're here, did you know we've recently launched a t-shirt, just in time for Christmas? What a coincidence.
Priced at just lb13 +p&p, it features famous (and infamous) names from City's past. Stocks are limited, but you can order yours now.