By
Damon De Rees
What do you mean a 1 year contract extension for Steven Whittaker isn't all we need for the season ahead? How about the return of Lewisham- born poster boy, Michael Turner? No? You're right. It's not exactly the inspirational pre-season I was hoping for either.
As we draw ever closer to our return to the Championship there is still the lingering stench of several unanswered questions. Is our current squad good enough? What's going to happen to Robbie Brady - the only man I'll ever love? Should we loan RVW back out or employ him as our new mascot, "The Wymondham Wolf", in a last gasp attempt to hopefully increase his market value?
A majority of supporters seem to be happy with the man at the helm, but significantly less seem to have the same level of confidence and adoration in our playing squad. And I can't say I blame them. To put it simply it feels like we're severely lacking in key areas of the squad. There are gaps as big as those seen in a hillbilly's front teeth which are there for all to see. Gaps in terms of depth and quality in general.
The spectre of further attrition is also very real. All it takes is one sheepish meeting between player and manager, "Look, gaffer, I know I said that I'd stay and fight for promotion, but Leicester have been on the blower to my agent and, well...it's not you, it's me."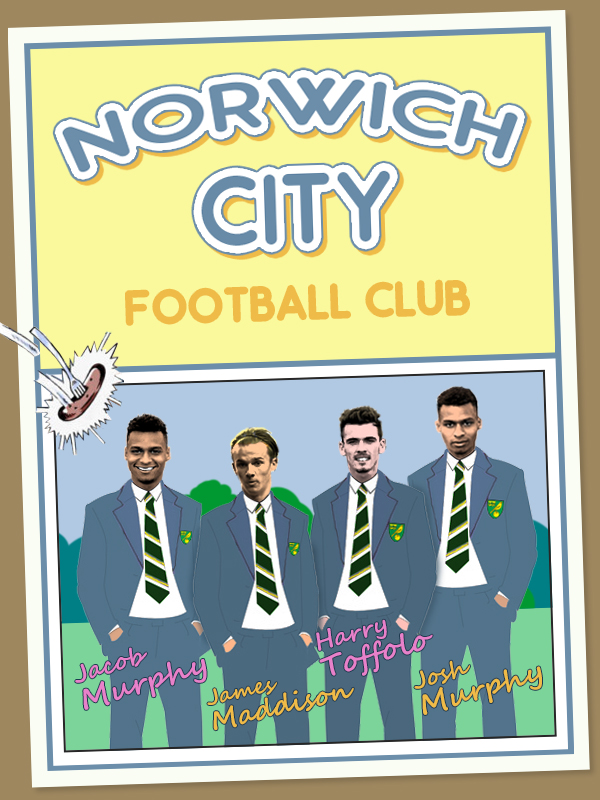 There are numerous positions that could do with a facelift; Striker, right wing, left wing, defensive midfielder, left back and centre back. Yes, that's most areas, I know. When it's down on paper it provides a stark realisation as to what is really lacking. Apparently the Canary Stores are short on personnel as well.

I believe the requisite support may actually be waiting in the wings. It's quite well documented that we have a bunch of talented young lads. Such youngsters take the form of the Murphys, Louis Thompson, James Maddison and promising left-back Harry Toffolo, among others.
We've invested both time and money, you know, when the pound was still worth something, in these highly rated young players and then loaned them out. Sometimes without even getting them close enough to Colney to sample the sharp but delicious tang of our home made apple crumble.
Now I'm not saying this was the wrong decision, not at all. Perhaps it's similar to when you buy your favourite treat during the weekly shop and strategically place it at the back of the cupboard. You forget about it for ages and then eventually stumble across it, with a smile on your face and a tear in your eye. Could James Maddison be our family -pack of Freddo's? Truth is we don't know.
There's no guarantee the players previously mentioned are the answers to our potential issues, but at what point do we roll the dice? Josh more than Jacob, perhaps, could certainly step up to the plate as far as replacing the departed Nathan Redmond goes. They have a very similar game, speed merchants who love to carry the ball and take people on. Both also have a false sense of confidence in front of goal though, but that's why they're wingers and not strikers.
The same kind of comparison can be extended to Louis Thompson and Gary O'Neil. The lesser known Thompson loves a robust tackle and operates from box to box. Everyone loves an enforcer and that just doesn't feel like something we have any more.

With the predictable departure of Nathan Redmond, promotion for a player such as Josh Murphy also feels like a natural progression. Would it be a guaranteed and immediate success? Perhaps not.
However, patience was there in abundance for Redmond. Such was his inconsistency I for one wasn't distraught to see him leave. I wish him well, and our heavenly day at Wembley will never be forgotten, but I won't be pining after him.
liken him to an ex partner. Whilst you're with the aforementioned lover you don't know any other way to live, but when you finally part ways with them and move on to pastures new you can't help but wonder why you didn't see the light sooner.
And then when you realise you no longer have to eat that same bland, piss poor excuse of a meal he/she served up that is chicken and rice, which frankly even Oliver Twist wouldn't eat, happiness resumes.
That may all seem harsh on the guy, and if it does, then I apologise. Saints, enjoy. Lovely chap, but frustrating footballer.
There are also the ever-present conundrums which are yet to be solved: Centre back and Striker. Key parts within the spine of any team. And I think it's safe to say the current squad has had back problems for a while now.
Let's bring it close to home once more and look at players such as Carlton Morris and Louis Ramsay. The latter may be somewhat of a unknown quantity at the moment. He's a confident young centre back/full back with a decent turn of pace and a howitzer of a right foot, but I'll come onto that later.
Carlton Morris is perhaps better known throughout the stands. Recently returned from his stint across the border at Hamilton Academical, he brings with him experience that was lacking before he made the journey north. OK, admittedly seven goals in thirty appearances isn't exactly what you'd call prolific, but Ricky Van Wolfwinkel scored twenty six goals in sixty four appearances at the same age (twenty).
Statistics can occasionally be a bit of a red herring and there aren't many people begging for Ricky to be given another chance, are there?
So what do we have to lose by trying these somewhat unknown quantities? In what promises to be quite a turbulent season I'd say not a lot. There's a reason our academy has retained Category One status for at least three more seasons; infrastructure. The same infrastructure that's now providing opportunity to another crop of talented youths.Five of them to be precise. Within this quintet are two standout names (no offence to the three unmentioned): Joe Crowe and Louis Ramsay.
Crowe, a Northern Ireland youth international (cue "Joe Crowe's on fire" chant) was the captain of the FA Cup youth side last season. The same squad Ramsay was part of. You may remember the latter from his thunderbolt against Middlesbrough in the cup run just passed.
Success stories from the academy are there in abundance. Messrs Crowe and Ramsay are about to join the likes of Todd Cantwell in our senior setup. The same Todd Cantwell who has represented England at various levels, but don't hold that against him. Reportedly being tracked by Arsenal earlier in the year, the lad has a bright future in the game, hopefully in yellow and green.
"But how are we going to go straight back up to the promised land which is the Barclays Premier League if we don't explore the underbelly of the European transfer market?! " I hear you cry. Well tell me, how did it work out for us the last time we bounced straight back? As insane as it may sound, if we weren't to return at the first time of asking (and I genuinely think we could), would it be a disaster? Being the nomads of the Football League isn't always fun. And if changing that means taking a risk, albeit a calculated one, in talented youth then I for one am all for it. The rewards we could reap may be massive.
Alan Hansen once famously said, "You can't win anything with kids." Well, I'd like to hear you tell that to Dereham Town under 16's.

Follow Damon on Twitter @Damo_88