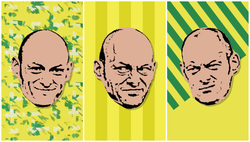 By Jon Punt
No permanent Chief Executive, Wes will soon need a work permit to play for City, rumours of a potential firesale, Irish coffee we've never heard of sponsoring the South Stand, no major signings, the kit's too yellow...
...Bassong's still in the building, Gaz O'Neil has taken his headband and Brady's teeth to Bristol, Timmy Klose hasn't been on Snapchat for a while, Ricky's off to Feyenoord, Big Kyle can't get a game for Sprowston Under 11s.
Club's a joke, right?
While some of the above is true, or at least partially, now is not the time for panic. Judging by message boards, social media and that guy down the pub who probably votes UKIP, we should all be losing our shit.
Delia's head should be on a spike, with Ed Balls' (or should that be Ed's balls?) next for the chopping block.
David McNally's departure has served to strike fear into many a supporter, the sense of continuity he provided is now lost and the equilibrium is most certainly disturbed.
The club's at a crossroads, an alarmingly large proportion of the squad are reaching the age where their star will probably fade and that makes people feel uneasy. Our sense of identity as fans could also be called into question, most have broken ranks only to be labelled a happy clapper or a doom merchant, with very little middle ground.
It's understandable, at least some of it, but the way in which some people jump off the deep end is astounding.Now I need to caveat this statement with the fact there are many reasonable Norwich fans out there, its just the more vocal with extreme views tend to make themselves heard.
It's easy to find the negatives. We all do it in everyday life, its quintessentially British, but scratch beneath the surface and things seem a whole lot rosier. And there's one major reason for that. One reason we all know in our heart of hearts. Alex Neil is at the helm and in more ways than one that may just be enough in this pig of a league.
Many questioned his qualities last time out in the Premier League and a lot of the criticism levelled at the manager was fair game. He didn't pick his strongest eleven week in, week out, he may not have even known who they were. He failed to trust his attacking principles for long periods of the season, which resulted in a more stifled, containing brand of football. Those things are undeniable.
But the man is progressive, he has standards, he demands things of players very few that went before him could. You get the feeling the squad have an equal sense of fear and respect for him, quite the achievement given his short managerial career.
The most reassuring thing about the inevitable relegation post mortem was Neil's tendency to castigate himself. He gets the fact he made mistakes, yet he's willing to learn and come back stronger. If you can think of more than a handful of former Norwich City managers who have that ability to self-reflect and criticise you're doing pretty well, because I'm struggling to name one.
Beneath that appetite to improve lies a steely confidence, an unwavering belief he will succeed. This is apparent in many of the great leaders in business; they have a clear vision and inspire others around them to achieve it together. They recognise talent and help it flourish. In many ways this is Neil's toughest task of the upcoming campaign, to forge together battle hardened, experienced professionals with the current crop of promising young players at the club.
Integrating Maddison, the Murphy twins and Toffolo might sound like a difficult ask, but this is a man who successfully brought through a glut of talented players during his time at Hamilton, some of whom have gone on to have international careers.
Yes, this is a bigger ask, but the guy's got previous, just trust him with this one. Surely this was one of the main factors in Neil's appointment, when was the last time we truly brought through a player who made a meaningful impact on the first team?
The Scot is in his formative years as a manager, yet he's experienced two play-off successes at the tender age of 35. Yes 35, a year older than Wes Hoolahan and a year younger than Gareth McAuley, currently joint 135th in Norwich's all time top goal scorers without ever playing for the club.
In Neil we have everything most fans look for in a manager. Young, hungry and eager to prove himself again following relegeddon. He now has an experienced man at his side in Alan Irvine, possibly the most astute piece of business we've done since the lb5 deal for the number 9 and Van Wolfswinkel to be printed on the back of replica shirts.
How many times have fans berated the club's approach, trotting out the usual line of "I don't mind losing as long as we have a go" when supping on a post-match pint?
Now don't get me wrong, that statement is fundamentally flawed, the vast majority of supporters are much happier if your team wins of a weekend, but the sentiment can't be ignored.
At last we have a forward thinking manager, ready to dish out old school discipline, coupled with a more modern and expansive style of play. Surely we can all get behind that, right?
I might be wrong, I regularly am. My man crush on our very own Sir Alex may have got in the way of the stone cold reality of our Championship status and the part he played in it.
We should enjoy this man while we can, as on the face on things he could be destined for bigger and better things than Carrow Road.
He's not perfect, he's far from the finished article but he's ours and he's bloody brilliant.
Just make sure you're part of his Yellow Army come August 6th.
Follow Jon on Twitter @puntino