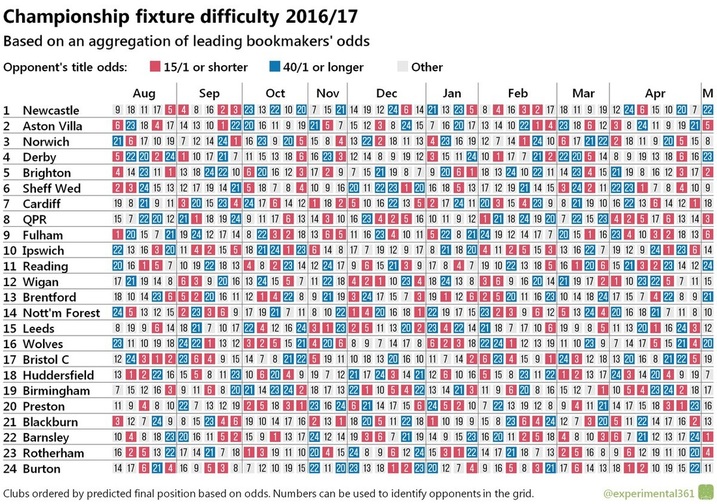 By
Andrew Lawn
With the release of the fixture list last month, coupled with England's traditionally frustrating exit from a major tournament, excitement for the new domestic season is now starting to build. The first shoots of which emerged on fixture release day.
Within minutes of the fixtures being released, an interview with the current manager is normally doing the rounds in which you can safely assume they will say something along the lines of;
"It's a tough opening game and we would have preferred to be at home, but we can go to [insert opposition name here] and win. There are no easy games in this division and we will play everyone twice."
That last line is the key one, because the assumption is it doesn't matter who you play and when because everyone plays everyone twice. This is utter rubbish.
To explain we need to analyse the fixtures a little more closely, but for an example think back to how you felt when the fixtures came out in June 2013 and you read that our final 4 games were Liverpool, Man Utd, Chelsea and Arsenal.
Already you felt we needed to be on 40 points after 34 games rather than 38, which immediately added pressure. A pressure we ultimately never dealt with.
Probably similar for most of us, but when the fixtures are released I immediately look to see who we're playing and where on the opening and final day. I follow this by checking Boxing Day, the away fixture closest to my birthday and then Ipswich.
I used to leave it there and forget all about who we were playing, but 2013 taught me that there is more you can learn about your chances in the coming campaign. Who you're playing and when makes a big difference.
As per 2013, the first thing to check is the run-in. At the most tense time of the season, experience has shown teams with nothing to play for can be 'on the beach', offering you an easier potential for 3 points. What you want here is teams likely to be mid-table, out of sight of both the play-offs and relegation.
2016/17's fixtures have been quite kind to us in this regard, offering Reading, Fulham, Preston, Brighton, Leeds and QPR. Of those 6, only Brighton had anything to play for come April. Same again please.
Next I look to see when we play the promoted and relegated sides. Momentum is oft-quoted as vital in football and thus in an ideal world you want to meet teams when they don't have it. Therefore games against recently relegated sides early on in the season are preferable to playing newly promoted sides.
Again the fixtures have been OK to us. Whilst we don't play either of the other relegated sides early on (first up is Newcastle in late September), we also avoid the new boys until 6 or 7 games in, just long enough for the honeymoon period to be wearing off.
In the same regard I scan through the season as a whole to see if we have any nightmare, confidence sapping runs. For this I often turn to Twitter and the brilliance of Ben Mayhew who uses graphics to help visualise lots of data at once. His table on fixture difficulty based on bookmakers title odds is below and is fantastic for doing just this.
What you don't want is a spate of title favourites (red) one after the other. A quick glance at our fixtures show this isn't an issue with the harder games nicely spread out through the season. More helpfully still they often have an easier game (blue) nearby, providing a welcome oasis of easier games to bounce back in.
Finally for the really obsessed, you can look at the international breaks. Ideally you want to play at home against teams with lots of international players who have a long way to travel.
We have Cardiff at home after the first one, who include Iceland's hero Aron Gunnarsson in their squad, who will have been to Ukraine and back the week before we play them. Next we have Rotherham, again at home, followed by QPR away in October and November respectively which is far from terrible.
So in conclusion the 2016/17 fixture list has been really quite kind to Alex Neil and his men. We begin and end with winnable games and never have a momentum destroying run in which points should be too hard to come by.
In comparison, Newcastle play 4 of the expected top 5 in their opening 10 games, just when they should be most vulnerable following relegation.
Villa open against defeated play off finalists Sheffield Wednesday (who then come to us), and finish at defeated semi-finalists Brighton. Villa also have to face 4 of the top 6 in 7 games during February and March.
Whilst our good friends down the road, begin against newly promoted, momentum filled Barnsley, have a potentially very difficult run of facing 4 of the predicted top 5 in 6 games during February and have two of the top 6 in their difficult looking run in.
Of course the Championship is notoriously difficult to predict and this could all be nonsense, but right now I wouldn't swap the way our fixtures have fallen with any of them.
Never mind the danger.