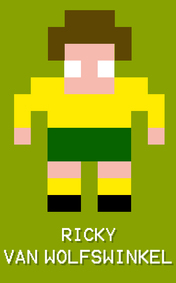 By
Duncan Edwards

During Iwan Roberts' first season, I completely wrote him off and, apparently (I don't recall this), said that we'd be better off with Jamie Scowcroft.
That's the sort of statement that should see me banished from Carrow Road and forced to shake John Wark's hand while praising Eric Gates, but Roy Hodgson aside, I'm starting to wonder if it's possible to find a worse judge of a player's ability than the fans that pay to watch them?
As bad as my call on Iwan was, I've heard some crackers from other City fans too. Who could forget Askou being better than Doherty or Spillane being a better option than Russell Martin? What about the clamour for Cody or the baying for Becchio? Most recently of course it was the longing for Lafferty, more of which may yet be to come, but it seems likely that we'll have another annual worship of the Wolf first.
Despite having done slightly less than nothing for 3 years, there'll be plenty urging Alex Neil to give him a chance to finally prove himself in the yellow. Is it the price tag? Is it the exotic name? It's probably the fact he's still our most exciting purchase, the first time that we really looked like showing intent with hard cash and that he comes across like a nice bloke.
The problem is that he plays like the lovechild of Goran Maric and Raymond De Waard.
"But Hughton ruined all the strikers....negative football....we didn't play to his strengths...." - I hear the arguments. Hughton, however, hasn't managed him in his last two Sahara seasons, Alex Neil clearly didn't fancy him despite winning a tackle and scoring a goal at Rotherham and I'm yet to actually define what his strengths are, even his facial hair looks like it came from Toys R Us.
However, he's back once again for pre-season and there's certainly no questioning his professionalism. As such, he remains part of the squad and, theoretically, he has a chance to stake a claim for a berth. I'll go out on a limb and say that there is absolutely no chance of him starting our first league game but with Hooper and Grabban gone, Mbokani and Bamford departed too, he might just fancy taking his chance. There's a first time for everything as the saying goes.
No, I fully expect us to loan him out one last time and buy a new striker or two. I couldn't have been more wrong about Iwan though, he became a legend and, despite my whinging and whining, IF Ricky was to line up in a city shirt against Blackburn, I'dbe itching for him to do well. Mainly because it would benefit the team but also because he IS still the most exciting signing we've made since Martin Peters and he's a nice bloke, isn't he?
Ultimately though, wanting Ricky to come good is a bit like it used to be watching Henman at Wimbledon. Never gonna happen. Just like that, we're all secretly still hoping that this is "his year".
Go on Ricky.
Follow Duncan Edwards on Twitter @duncanedwards8