By
Di Cunningham
What the hell has this to do with football? - a reply to Norwich City's Facebook post on Thursday with news of its support for Norwich Pride was met with a one word shut down:
'Everything'
And it has. If recent law changes enshrining equality for Lesbian, Gay, Bi and Trans people make it tricky to remember why Pride events are needed then look no further than a sport which has no elite male players who publically acknowledge their homosexuality.
Advances in rights and changes in public attitudes have made it easier for LGBT people to be open with family and work mates about who they love - even people in the media spotlight - even people in the sports' media floodlight; Keegan Hirst, Nicola Adams, Tom Daley, Steven Davies.
There's an obvious feedback cycle: as more sports professionals and celebrities come out they become role models and inspire others to be honest with themselves and others about their sexual orientation. And the openness helps, mentally and physically. A recent Stonewall study found a significant link between being 'Out' at work and productivity - why wouldn't any sportsman want to perform to their maximum potential?
Last autumn the Mirror and Daily Star both announced that 2 Premier League players would 'Come Out' before the start of this season; there are a few weeks yet but I'm not holding my breath - no top tier male player has been openly gay since our own Justin Fashanu.
So the only role models for young gay players unconfident about asserting their sexuality (and let's be clear we're not talking X Rated chat here - it's generally more a question of freedom from screening out names and pronouns in case you give away, for fear of being bullied, just who you went to a film, or spent the weekend with) are in the Women's game; Casey Stoney and Lianne Sanderson, MLS; Robbie Rogers, Non-League - Liam Davies, or retired; Thomas Hitzlsperger.
Given the homophobic abuse routinely heard from the stands and seen on Social Media (and that's in the absence of any confirmed gay player) it's not hard to figure out why being closeted is preferable.
It's clearly not only supporters who perpetuate football's casual homophobia; the Chelsea v Spurs top of the table decider last season saw Coventry's Chris Stokes deride players as 'Faggots' on Twitter, later suggesting he'd been shocked to learn what the word meant.
Ex Birmingham and Derby defender Michael Johnson who branded Homosexuality 'Detestable' on Nicky Campbell's Big Question TV show is now U21s Assistant Manager at Cardiff City. And I was devastated to hear that Martin O'Neill joked at the Euros about being thought of as 'Queer' for spending too much time with Roy Keane.Martin O'Neill. One of the smart guys in football. One can only imagine the face palming in the Eire squad from Robbie Keane (a vocal advocate for Equal Marriage and friend of LA Galaxy team-mate Robbie Rogers), and Robbie Brady and Wes Hoolahan who both actively supported this season's Football v Homophobia campaign - like being embarrassed by an out of touch grand-parent maybe.
Not the sort of colleagues and support staff who foster an atmosphere promoting self-disclosure.
While Stokes received a minor rebuke and penalty from his club, and Equality Training from the English FA, the Irish FA haven't taken issue with O'Neill and are yet to act in response to grotesquely racist and homophobic tweets made during the Euros by League of Ireland Premier Division Manager Murt O'Connor; he tweeted an image of an ape he tagged 'Sterling' and reported that the Orlando Massacre murderer wasn't 'a Straight Shooter'.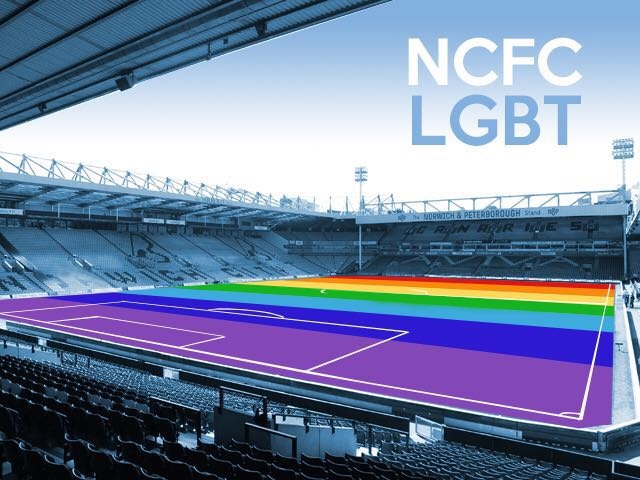 Football Authorities' delayed and inadequate action or inaction and dismissal of abuse as banter ignores the fact that even if there are no gay players or officials there are many LGBT fans - it's variously gauged that between 6 and 10% of the population are Gay, Lesbian, Bi or Trans, which means several thousand people at a EPL or top Championship stadium.
Increasingly groups like Proud Canaries are working with their clubs to ensure visibility and inclusion and until players (and officials) do feel comfortable acknowledging any same sex relationships publically the only sign of that community's involvement in the game is through the fan groups.
In the season Proud Canaries launched there were 5 reports of homophobia - all were investigated and dealt with by Norwich City.
It didn't signal a sudden increase in abuse; it simply meant that fans felt empowered to take control of the arena they pay a significant sum to sit in for 90 minutes and they believed that their complaints would be addressed.
On the pitch Norwich City have lead the way in overtly combatting discrimination with many players acting as ambassadors for the campaigns Football v Homophobia and Rainbow Laces (in the current squad Russ Martin, Steven Whittaker and Josh Murphy, Wes and Brady) plus former Canaries Robert Snodgrass, Elliott Bennett, Nathan Redmond and Leroy Fer.
Some footballers are superstitious about their kit and won't wear Rainbow Laces however open-minded and even I wonder had Snodgrass not been wearing them on 21st September 2013 might he have scored that penalty against Villa? But then RVW was wearing them too and may ...
The stripy laces are obviously not wanted in John Ruddy's eyeline - he has never worn them but is unequivocal in his advocacy for any team mate who might come out; they'd get "nothing but full support from myself and certainly this dressing room". Fans who'd abuse an 'Out' player, Ruddy said should "Take at look at themselves".
The Board too are manifest in their commitment to promote inclusion and address prejudice - Michael, Delia, Tom and Ed all sported their FvH badges during the campaign's fixture v West Ham in February and they, with sponsors Aviva, have literally put their (Rainbow) colours on the mast for the Hannover game this afternoon.
If any club has a model environment where a gay player might choose to 'Come Out' then it might be similar to that at Carrow Road, with its enlightened dressing room and Board, where the fans challenge homophobia, and where for the 8th Norwich Pride - the first to coincide with a home game - the club will be flying the Rainbow Flag because, as they say, it has everything to do with football.