By
Andrew Lawn
So our first summer signing is in the door and by most accounts it's one to get quite excited about.
Away from the usual new signing hype and the dry, HR style "Sergi Can'os was born in February 1997" (feel old?) what do we know about our new acquisition and what he might bring to the party? Is he a young Redmond impersonator?
Like Redmond, Can'os can play across the top end of the pitch, either wide or straight through the middle, be it behind a target man, or looking to get on the end of through balls.
In 39 appearances for Brentford last season Can'os played a part in 1 in 5 of Brentford's goals last term, netting 7 times and laying on 5 assists. 12 goals in just under 40 games, which from the right hand side of midfield, for a team that lost as many games as they won isn't a bad return. You'd hope he can improve on that in a team that will hopefully be challenging higher up the division.
Given the sale of Redmond, coupled with his season work last year being solely on the right, logic suggests that is where we will see him strut his stuff for us. But is he a direct Redmond replacement?
While not deemed as quick as Redmond, Can'os is undoubtedly nippy. Unlike Redmond who appeared reticent at times to commit his full back, Can'os is someone who relishes taking on a player who can beat his man on the inside or out, combining quick feet and excellent balance.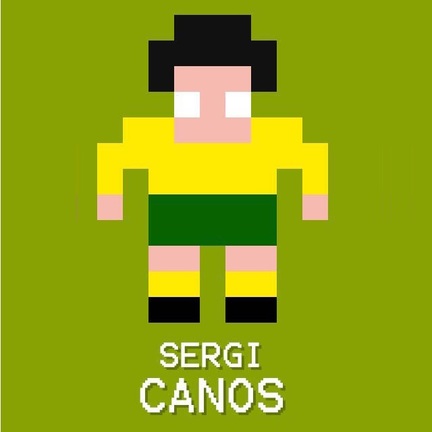 According to
transfermarkt
his performances since arriving at Anfield from Barcelona in 2014, including last year's successful season-long loan at Brentford, would see him valued at about lb650k.
Given we are reported to have paid lb2.5m (possibly up to lb4.5m) for the lad, this suggests we have overpaid, but tellingly his value has doubled in the last 12 months alone and he's still a teenager. We have in effect bought his ability (lb650k) and his future potential (lb1.9m).
Comments on the notoriously reliable and always accurate Twitter, suggests this is a steal, with one impartial commentator, who specialises in tactically reviewing European football and thus has a reliable knowledge of players around the continent going as far as saying;
"lb2.5 million for Sergi Can'os could be quite the steal. Liverpool would really miss a trick if they get no form of buy-back clause in there."
Tellingly Liverpool fans appear almost universally to be sorry to see him go. Although the other side to that the eminently more qualified Jurgen Klopp, who is by no means a poor judge of player or character, is willing to sell.
Finally but possibly most importantly of all, according to Wikipedia, his family run a Spanish restaurant, called 'Gracias' on Liverpool's Penny Lane.
James Chaplin's official signing rating
A player that looks to have pace, skill and a great attitude, Can'os could well become a fan favourite. Great potential, but unproven at the level of performance Alex Neil will be looking for. 74 footballs.