By
Jon Punt
Norwich are alarmingly short of strikers. Like Kylie Minogue or Prince short. And no, removing a rib so we can help ourselves out isn't the answer but our options are about as limited as Piers Morgan's moral compass.
Ricky's probably not up to the task, the weight of his hair gel has finally become too much. Lafferty's future certainly lies away from Carrow Road and none of us really have the patience, time or energy to have this argument again. Never.
Ok, we have someone proven at this level in Cameron Jerome, but he needs a hand surely? For all his strengths Jerome is relatively one dimensional in his style of play and his finishing leaves something to be desired. Not even the most impressive afro since Saved by the Bell's Screech adorned 1990's TV screens is changing that.
So we're screwed, yeah? Cam Jam can't do it on his own, Grabban's still finding his way to Bournemouth on foot (the M3 and A31 can be a bitch this time of year) and Hooper's fucked off to try all of Yorkshire's puddings. Good job Gary isn't around this season anyway, the slim fit new shirt would have done him few favours and yellow has never really been his colour.
But thinking laterally, there's someone we may have dismissed, either because you feel he's destined to engineer a move to a newly promoted side thus retaining his Premier League pay cheque,is possibly an attacking midfielder rather than an out and out front man, or just because he was fairly atrocious since his arrival in January.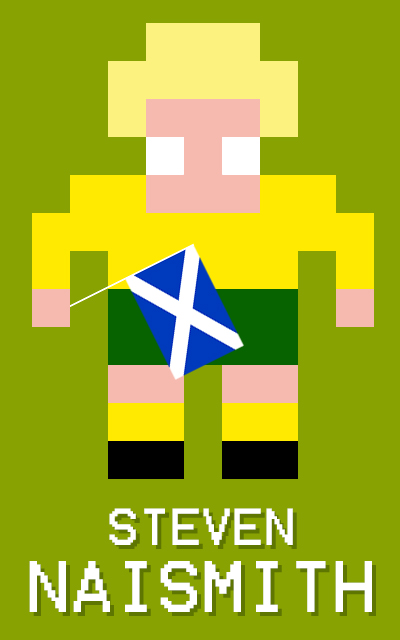 Step forward Steven Naismith.
Now admittedly, he hasn't exactly set the world alight after his auspicious start against Liverpool. Off the pace, languid, looking like a little boy lost, the Scottish international has by no means lived up to lb8.5 million worth of hope and expectation.
But could we be writing him off before he's been given a proper chance to prove himself? Maybe. And he's far less of a gamble than a certain RVW.
Norwich fans won't generally have observed enough of his career closely enough to provide proper judgement on the man, but I know some who are more than qualified. Half of my in-laws are staunch Evertonians. They're good footballing people who can generally spot a proper player. Not like their loudmouth neighbours who support the Redmen, but that's another story.
Most in the blue half of Liverpool were sorry to see him go. The feeling was he'd been frozen out unnecessarily by a hapless Roberto Martinez and saw him as an integral part of a squad which could have pushed on for a Champions League place had they been more effectively managed. Not only could he serve as backup to Lennon or Deulofeu, but more pertinently they were completely reliant on Lukaku for goals and Naismith offered something in this area.
Of course I quizzed the Scouse in-laws as to the kind of player we were getting when he inevitably signed after a protracted transfer chase. "Best finisher at the club" they said. "He'll give you everything, he's a bloody nuisance, a total workhorse and he'll be a brilliant signing for a club like Norwich" they enthusiastically exclaimed. Sounds good doesn't it? So who the shit is this imposter that turned up at Carrow Road?
Reflecting on Naismith as a signing, everything about it made sense. An experienced pro, bags of game time at the very highest level, always involved with somewhat successful clubs, never been relegated, up for the fight. The list goes on and on.
In fact, and I know I'm in the minority here, I felt we were at our attacking best last season when Naismith, Hoolahan and Redmond were employed in free roles around the focal point of Mbokani. Naismith almost exclusively played higher up the pitch but he had a license to roam and get involved. It didn't always come off, but when we played with a more reckless abandon we were better for it.
Now of course, there are reasons why he hasn't been thrust into a striking role for his entire career:
His first touch is abysmal. Fair play, you've got me there. However, think Jerome of 2014-15. Often his initial contact with the ball was of Akinbiyi-esque proportions, yet you can forgive these things in the Championship and still manage 20 goals a season.
He's looked well off the pace at times since he signed. Yup, no denying that, but was Naismith fully fit when he put pen to paper? Reportedly nursing a hamstring niggle through December and January, it's probable the Canary faithful have never witnessed him firing on all cylinders. His most impressive performance was on debut and you have the feeling adrenaline may just have dragged him through that.
He's not predominantly a striker. True, often he's been most effectual in a central attacking midfield role. However, Naismith has represented his country ably as a number 9 and was often seen as competent enough to do that job for Everton. Surely there's something there to suggest he could do the same in a yellow and green shirt?
He can't play up front on his own, too lightweight/not big enough. Again this may be true, but some of our more attractive and expansive football in 2014-15 saw Grabban as a lone striker. Clever runs and game intelligence can often win out against the bruisers of second tier English football.
I'm not saying he's the saviour, big Kyle is that to most, or if you're a proper conspiracy theorist see Becchio. I'm also not asserting we should abandon any plans to sign further forward options. Two won't be enough.
However, most of us haven't even considered the possibility of Naismith doing a job for Norwich up front. It's worth contemplating, especially given his scoring record as an attacking midfielder/forward (roughly 1 in 5 in the Premier League football, 1 in 3 for the SPL).
The one thing most Everton fans were steadfast about was his ability to finish, given the opportunity he's sure to get chances to prove his worth.
Follow Jon on Twitter @puntino