By
Ffion Thomas
Pre-season friendlies. The green of the grass, the indifference of the crowd, the match fitness not the result, the futility of it all. What's not to like?
Tremendous excitement ensued, in my head at least, when news broke that a Norwich XI/Norwich U21s/Norwich Development Squad/whatever they're called were to take on the mighty Dulwich Hamlet in a crucial pre-season friendly.
Dulwich who? A quick history lesson; in their heyday Dulwich Hamlet were one of the biggest amateur clubs in the country, winning the FA Amateur Cup four times between 1920 and 1937 thanks to players such as one-club man Edgar Kail, a skilful winger who turned down offers from professional clubs to score 427 goals for the Hamlet in 14 years, and who holds the accolade of being the last non-league player to receive a full cap for England. His legacy is not allowed to be forgotten in these parts - the road leading to the ground is called Edgar Kail Way, and the fans sing his name with pride - 'Edgar Kail in my heart, keep me Dulwich...'
The vast terraces of Champion Hill regularly held crowds of over 20,000 in those days, and it hosted a match between Mexico and South Korea at the 1948 Olympics. Although the current stadium retains the name, the original ground is long gone; a financial crisis in the late 1980s saw the crumbling stadium and adjoining land sold off, with a Sainsbury's superstore and car park taking up much of the site. A modest new stadium more suitable for the club's requirements was built almost exactly on the old stadium's footprint and opened in 1992.
These days, Dulwich Hamlet are making headlines again - but they're more likely to be found inside a national broadsheet Sunday supplement than on the back pages. With articles variously describing them as 'London's most hipster football club' (The Guardian) and the fans as craft beer-toting, ukulele-playing, hand-knitted scarf-wearing young professionals (The Independent), such widespread coverage means it's little wonder that the perception of Hamlet's support can vary from harmless eccentricity to, for some, seemingly almost offence-inducing.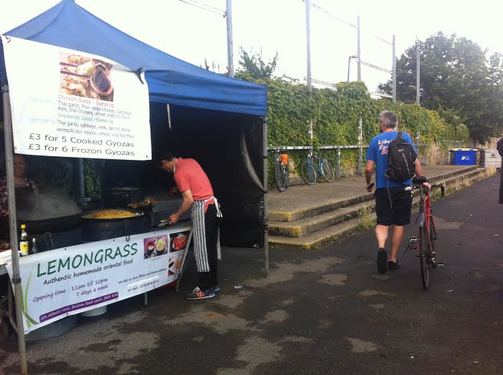 I hate ukuleles but I do have a propensity to moonlight at various non-league clubs in and around
the M25 on those blessed Norwich-free midweek evenings, and Dulwich Hamlet is the one I most
often come back to - easy to get to, cheap to get in, and some decent football and atmosphere guaranteed. And although I don't even own one of the pink and blue bar scarves now ubiquitous across the buses and supermarkets of south London, I've been going just about long enough to witness the changes in attendance that have piqued the interest of the non-league world.
As recently at 2010-11, the club's average home attendance in the Ryman League Division One South was 215. Promotion two years later saw the average for their first season in the Ryman Premier rise to 667. Jump another two years and 2015/16's average was 1,300, with the highest gate of the season an astonishing 2,467 for the last home game against Lewes as Hamlet pushed for promotion, although for the second year in a row, their hopes of ascending to the dizzy heights of the Conference South were ultimately snuffed out in the play-offs.
There are dozens of Football League clubs, let alone non-league, that dream of such exponential attendance growth - indeed, Hamlet regularly attract bigger crowds than several League Two outfits.
One key factor has been simple word of mouth. Wandering around the ground on Tuesday, I overheard numerous conversations where fans were explaining the idiosyncrasies of Dulwich Hamlet and non-league football in general to their first-timer friends, who presumably might never have ventured into the weird world of the Ryman League of their own volition.
Occasional 'pay what you want' games and a wide range of entry concessions make it accessible for all, while astute use of social media and grassroots publicity campaigns maintain the club's visibility in the local community.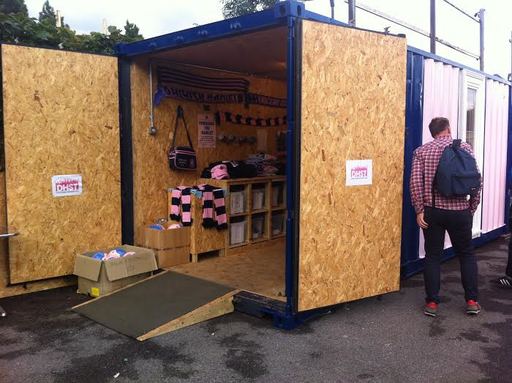 And whilst some might try and present this as some kind of craft beer and lentil-weaving utopia where the big, green (and very well-maintained) bit of grass in the middle is nothing more than a backdrop to conversation, let it not go unnoticed that the football is also an attractive proposition.
Gavin Rose, former player and first team manager since 2009, has been linked with jobs at bigger local clubs, but has stayed loyal to Hamlet in part due to his role as founder of the linked ASPIRE Academy, providing both football and educational guidance for 16-18 year olds who have fallen through the cracks at professional clubs; one of ASPIRE's greatest success stories is Carrow Road favourite Simeon Jackson, who thrived under Rose's tutelage after an early rejection at Gillingham.
As manager, Rose's commitment to attractive, passing football has seen Hamlet in the upper echelons of the league table year after year, inspired by creative players such as Xavier Vidal and Erhun Oztumer, both of whom were eventually snapped up by clubs at higher levels of the football pyramid. Watch them play and it's easy to see why the fans keep flocking to Dulwich.
Such growth comes not without its own problems. Despite the best efforts of the efficient staff, the clubhouse has increasingly struggled to cope with the huge numbers wanting to retreat back to the terrace with a Hamlet Lager or local real ale in a plastic pint pot (yes, you can do that here), with ten-deep scenes at the bar throughout the game not uncommon for Saturday games. Indeed, the club had previously turned a blind eye to fans bringing in their own beer, until a can in each coat pocket seemingly mutated into the undeniable piss-take of people hauling 24-can cases across from Sainsbury's. The rule is now enforced via friendly but very un-non- league bag searches at the turnstiles, with a licence obtained to sell alcohol from a terrace stall to take some heat off the bar.
With only 500 seats in the stadium and some distinctly inadequate steps of terracing behind the goals, a decent sightline can be a precious commodity on a busy day. "At least we get a good view in these games", comments one passing home fan, with 652 ultimately coming through the turnstiles on Tuesday, a fair few of them in yellow and green. A great turnout for a midweek friendly from both sides, with the home fans congregating behind the goal - 'The Rabble', if you must - finding their voices as the night wore on.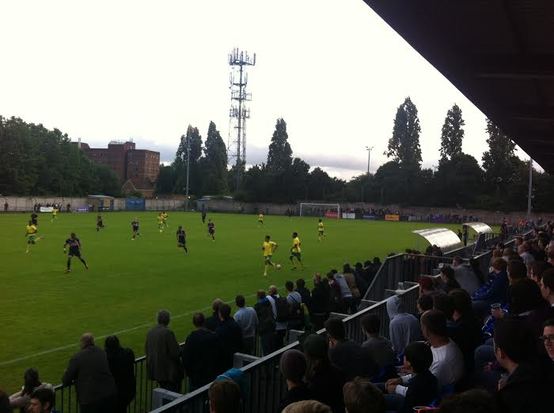 Not that they hope this place will be home for much longer. In this part of the world, the hot little hands of developers are all over anywhere you can shack up a block of 'luxury apartments', and in 2014 the Hadley Property Group cleared the club's debts in return for ownership and, of course, the stadium site. The planning application incorporating 155 new residential dwellings and a brand new stadium on an adjoining area of public land is currently in the hands of Southwark Council and strongly backed by the Dulwich Hamlet Supporters' Trust, with a view to future financial sustainability and fan ownership. Wisely, the new stadium plans incorporate scope for progression up the divisions.
The issue of housing is never far from the agenda around Champion Hill, or, as the fans refer to its environs in song, Tuscany - in reference to a bizarre comparison made by an anti-stadium campaigner in the late 1980s that the new development would kill off the area's Italianate ambience, an observation unsurprisingly not otherwise made prior or since.
This summer, while fans could just about swallow the value to the club of a record-breaking five-figure shirt sponsorship deal with a local estate agent, their 'incentive' that anyone making the not insubstantial investment to buy a house in the area could receive a free Hamlet season ticket caused understandable annoyance for those in the cycle of paying both rent and season ticket instalments, along with their similarly ham-fisted attempt to align a somewhat vague claim of estate-agent- based corporate social responsibility with the community values of fans who have instigated charitable initiatives such as the Dulwich2Dunkirk refugee fundraising drive and last year's anti-homophobia match with Stonewall FC.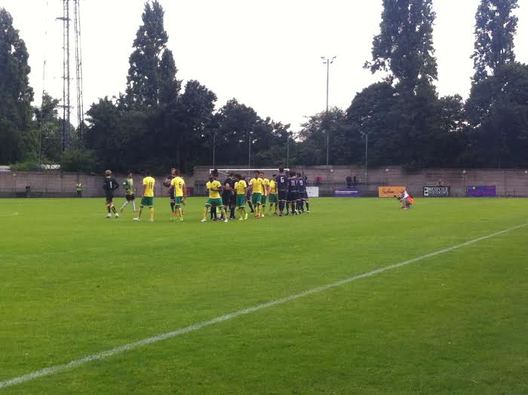 As for the game itself? Well, it was hard-fought, with Hamlet shading the first half and only denied from scoring by some smart shot-stopping from City keeper Ben Killip.
A completely new Norwich XI took to the field in the second half, amongst them 18-year- old Diallang Jaiyesimi, this fixture being part of the transfer package that took him from Champion Hill to Carrow Road earlier this year.
City were improved and assertive, but unable to capitalise on a number of promisingly rapid counter attacks. 0-0 it finished, but it was competitive, end-to- end, and absorbing enough.
The new kit looked OK, and I had a nice beer (craft, of course).
A valuable engagement for all concerned, then, as Gavin Rose and Dulwich Hamlet prepare for another assault on the Ryman Premier, with exciting sojourns up the A12 to East Anglian metropolises such as Leiston, Needham Market, Sudbury and Lowestoft (pitch permitting) on the agenda.
As for Norwich, we continue to pin our hopes, and the investment in Category One Academy status, on getting some of these promising kids into the first team on a regular basis.