By Tom Drissi
June 23rd, the day the British electorate voted, for better or worse, to leave the European Union.
As stressed by political pundits on both sides of the debate, the decision was to have wide-reaching impacts on all aspects and sectors of British society, and it would appear Britain's national game will be far from immune to any such changes.
While economic turmoil, diplomatic uncertainty and the worst performing Sterling in recent memory (Raheem and the GBP) are all of huge importance, I'm sure the real question on everyone's mind, of course, is how Brexit could affect the mighty Canaries...
Before I begin I should really point out nothing has changed YET in legal terms (all that 'triggering Article 50' stuff that nobody quite understands). No sudden changes to work permit restrictions on EU players have come into force, nor will any of the first team squad signed under the EU's freedom of movement laws be retrospectively forced to apply for visas or work permits.
However, just because we can all rest easy in our beds that the Home Office aren't swinging by Colney to deport Wes Hoolahan or Martin Olsson any time soon, it is still the case Brexit could have a significant impact on Norwich's future squads and recruitment strategy moving forward, as well as more immediate influences in the upcoming transfer window.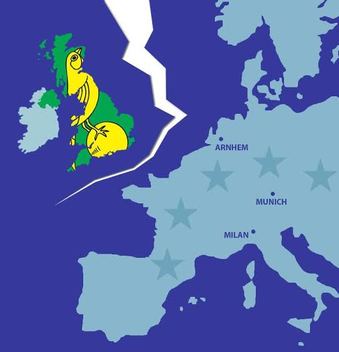 A useful thought exercise to see how significant changing post-Brexit work permit laws could be in the future is to see how significant a role EU footballers have played in Norwich squads of recent years.
First of all, it should be noted superstars from Europe or elsewhere have been and will still be able to move to major English clubs for big fees and not have to worry about Brexit or obtaining a work permit because they typically satisfy the 'highest calibre' of player clause in the Home Office's regulation.
However, clubs and players further down the pyramid such as Norwich, that don't exclusively recruit established internationals from top ranked nations, could struggle in the future to see their foreign transfer targets granted the legal documentation required to even lace their boots up in the UK.
For sides like us, the EU's laws allowing the player pools of 27 other nations to be scoured for talent without the looming issue of work permits are of huge importance. But just how reliant is Norwich's non-British recruitment on the European Union and its labour laws?
Unfortunately for the Canaries, it appears Norwich's recruitment from abroad is almost exclusively dependent on the EU's freedom of movement laws in place for workers and footballers alike.
Over the past 4 seasons Norwich's first team squads (typically around 30 players per season) have been composed of a base of around 16 to 20 British players and 10 to 12 non-UK national players.
What is striking (and worrying post-Brexit) about the make-up of the foreign contingent in Norwich's squads in recent years is that practically every single foreign player we have signed since 2012 has been acquired by the club through use of the EU's freedom of movement laws.
In fact, of the nearly 100 players to have been registered as first team members by Norwich since 2012, only 1 didn't carry either a British or European Union passport.
This shows when Norwich scouts leave the UK and search abroad, they operate almost exclusively within the EU. Therefore the Canaries might have to seriously re-optimise their scouting networks.
For the record, the crazily small figure of just 1 non-British or EU players since 2012 mentioned above consists of Kei Kamara (Sierra Leonean & American dual national). The number seemed a bit low to me initially. However, every counter-example I tried to think of only ended up being disproved. For example, Jonas Guti'errez and Luciano Becchio didn't count as non-EU players as both, as is common practice among South American footballers, carried Italian passports.
Secondly, it turned out that Nigeria international Joseph Yobo had been at Everton for so long that he had gained British citizenship by the time he joined us on loan. Simeon Jackson (Canadian and Jamaican dual national) also has a British passport, while the likes of Seb Bassong, Vadis Odjidja-Ofoe, Youssouf Mulumbu and Dieumerci Mbokani all carry French or Belgian passports. And finally, while Timm Klose and Alexander Tettey aren't technically from EU nations, their home countries of Switzerland and Norway are signed up to the EU's freedom of movement laws, meaning they were therefore brought to Carrow Road under the same rules as other European imports.
All in all, Norwich has recruited almost exclusively within the UK and European Union in recent seasons, and what City need to do with their European-based scouts amid the short-term uncertainty and long-term likely reduced access is a really important question.
However, one potential positive of this could be if Norwich scouts in the face of uncertainty turn their attention inwards and begin to scout more extensively within the UK.
Not only would a future with more local, home-grown players be welcomed on the terraces, but were Norwich able to nurture some talented young Englishman into the first team then the transfer fees received from any eventual sale (including the infamous 'English player premium') could prove to be a very profitable business model for Delia and Co. whatever league we're in.