In the latest "As the Canary Flies" series looking at former NCFC players that have gone on to have careers abroad, Tom Drissi looks at someone we all took to our hearts rather quickly, Mr Kei "Heart-shaped hands" Kamara.....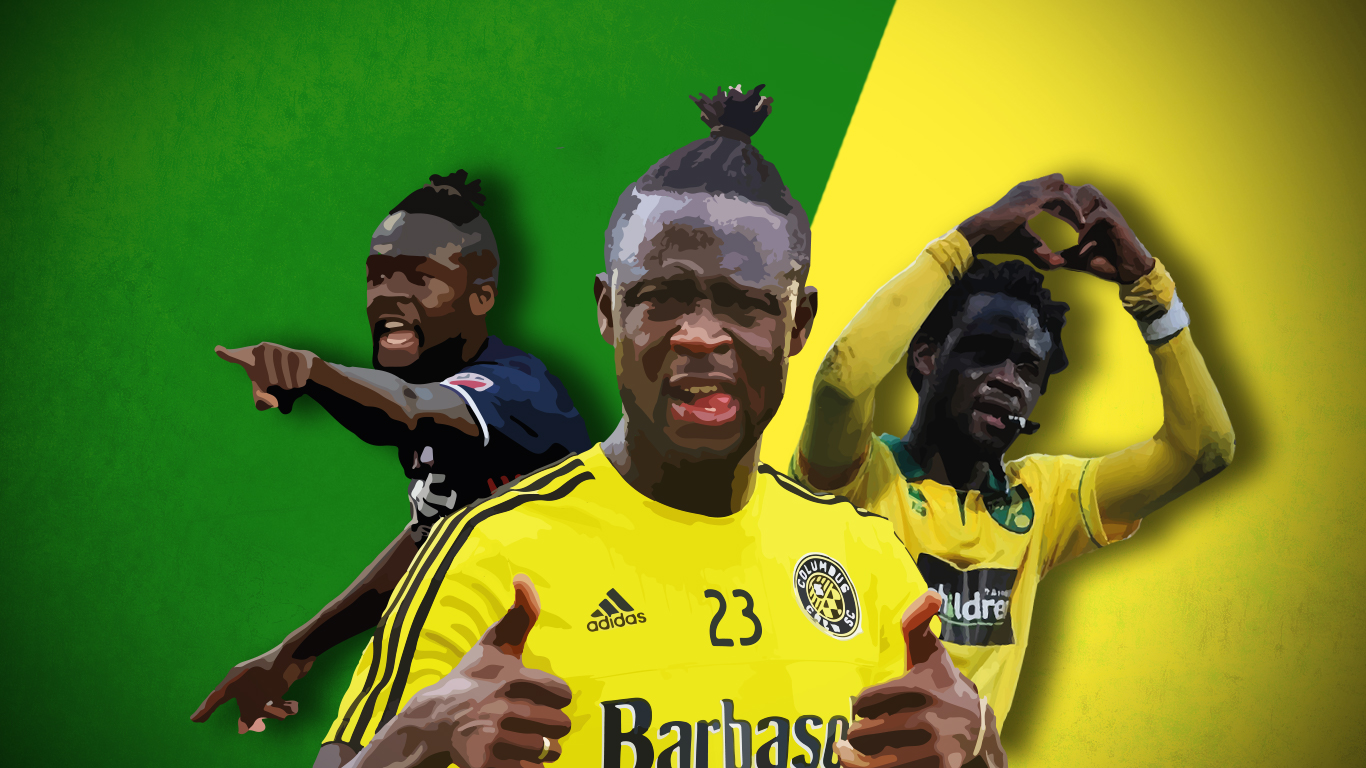 Have a scroll through Kei Kamara's social media activity and you will be awash with throwback posts to his time at Carrow Road, along with #OTBCs and green and yellow heart emojis aplenty whenever the Canaries pick up a notable result
.
Add to this the constant
'come back, Kei!'
replies below his every Norwich-related upload and one would begin to think Kamara was somewhat of a City legend. No. A long-term, loyal club servant perhaps? Not at all. Yet Kei still appears to have managed to have a lasting impact and have struck a real connection with our fan base.
This is what's interesting about Kamara's brief and not-exactly-prolific stay with Norwich back in 2013. Rather than fans falling in love with the player they took the wonderful character to their hearts, and that character has an equally incredible story to be told.
Kei's upbringing is nothing like the childhoods of most Premier League footballers. Growing up in a country in the midst of a civil war without his parents, fleeing to a refugee camp in Gambia and awaiting the chance to move to the USA to be reunited with a mother he hadn't seen in a decade isn't the sort of tale one hears too often in an interview with a footballer. Yet although Kei overcoming a great deal to attend college and score his way into MLS as a first round draft pick is a great story in itself, the details of Kamara's early life and years in Sierra Leone have already been well covered.
As interesting as that part of Kei's life is, in this month's As The Canary Flies piece I'm taking a look at the weird and wonderful world of Kei Kamara AFTER Norwich.
At Norwich Kamara was a hugely popular member of the squad and was described rather adorably by Grant Holt as someone who "just lifts you up in the morning with the smile on his face". His short stay in the Premier League also saw him become the first player of Sierra Leonean descent to score in the division.
The goal was his brilliant equaliser against Everton in a game where he came off the bench to inspire a City comeback (also assisting a last minute Grant Holt winner) in a fabulous 2-1 win at home to end a 10 game winless streak. That night on Match of the Day Kei memorably remarked; "My secret is out now, I'm good at jumping".
However despite being excellent at jumping, his jig with Wes after an early goal at Sunderland, his dressing room popularity and several promising performances as an impact sub, Chris Hughton decided not to make his loan deal a permanent one.
Despite this, Kamara was determined to stay in English football, as both a matter of personal ambition and also because of how much it meant to a football-obsessed Sierra Leone to have 'one-of-their own' playing in their favourite league. Testament to how major his presence in England was to fans back home is the rather amusing story of thousands of Sierra Leoneans packing out cinemas across the country to watch Norwich draw 0-0 at Loftus Road in a game they (wrongly) thought Kamara would be playing in as his signing had been announced a few days earlier. In fact not only was Kei yet to join up with the squad but was also not even in the right country. Oh well, at least the mighty Canaries, as ever, gave the spectators their money's worth as they witnessed that rarest of things; a clean sheet. Kei remained in England in the form of a season in the Championship with Middlesbrough, where despite a debut goal and impressive start to life on Teesside, he wouldn't see his contract extended beyond the one, rather injury-ravaged campaign. So Kei's dream of playing in England was over, returning to the United States in 2014.
By chance the MLS side with first option to sign him, as is the way the transfer system works stateside, was Columbus Crew, the club that originally drafted him out of college 9 years beforehand. Although Kamara struggled in Ohio back when he was a rookie (a single digit goal tally over his first 2 seasons in Ohio) there were no such troubles this time around upon his return to the Crew.
Kamara's reappearance in the States was immediately followed by the most successful season of his professional career; the forward led Columbus (who finished an unimpressive 7th overall the previous year) all the way to the MLS Cup final after winning the Eastern Conference. And Kamara was the league's joint top scorer notching 22 goals, seeing him match Toronto's ex-Juventus and Italy star Sebastian Giovinco in the scoring stakes. However it was the Italian who claimed the Golden Boot courtesy of more assists.
As well as goals by the hatful, Kamara's performances in black and gold also saw him shortlisted for the division's MVP award. Not bad for a Championship struggler playing in a respectable league containing strong US internationals as well as the ageing but still classy likes of David Villa, Kaka and the ludicrously evergreen Didier Drogba.
Going into his second season Kamara's status as one of the league's best goalscorers was rewarded when Columbus gave him a new and improved contract on a Designated Player (wage cap exempt) salary. Kei even picked up in 2016 where he had left off the previous year in front of goal, however things would soon take a turn for the worse...
Fifty-one minutes into a seemingly standard MLS fixture at home to the Montreal Impact, thatColumbus were already leading 3-1 courtesy of 2 first half goals by Kamara, the Crew were awarded a penalty. Kei, looking to complete the first hat-trick of his professional career, ended up in an argument with regular taker Frederico Higuain (older brother of Gonzalo), and was visibly upset that the Argentine refused to budge. Higuain duly converted with Kei notably absent from the celebrations.
However, those seemingly innocuous 30 seconds seemed to mark the beginning of a collapse by Columbus. The Crew would proceed to blow their 3 goal cushion (painfully conceding a 93rd minute equaliser) and Kamara, despite his typically cheery demeanour, did not hold back in his post-match interview. He described Higuain as "not a teammate" and bemoaned the lack of chances the Argentinian number 10 had created for him over the previous year, as well as also referring to a lack of penalties being the reason he missed out on the 2015 golden boot. The Columbus meltdown didn't stop there, and within a week their star player was in Massachusetts signing for the New England Revolution.
What's interesting about Kamara is how despite his happy-go-lucky approach to life there's still real fire in his personality, and when he feels a lack of respect he has historically been quick to do something about it. Controversy has been present in his international career in the years post-Norwich too. Kamara (who turned down the option of playing for the US to represent Sierra Leone) has had his gripes with Sierra Leone's FA and in 2015 even went on a self-imposed hiatus from playing internationally on account of their lack of professionalism, lack of sacrifices made for the players, "chaotic" structure and organisation regarding the likes of travelling for qualifying matches.
After almost a year out he did put his differences with Sierra Leone's governing body aside to come back for a crucial do-or-die qualifier, as Sierra Leone despite having had to play home games abroad due to the Ebola crisis were somehow within touching distance of their first African Cup of Nations for 20 years. To qualify they would need to win away against reigning African Champions the Ivory Coast. Despite Kamara returning to score the equalising goal for the Leone Stars (ranked a huge 55 places below the Elephants at the time) the match ended at 1-1 in rather bizarre circumstances as Kamara connected with a 94th minute corner only to see the ball eventually cleared on the line.
However, as he and his teammates ran to the referee to protest what they believed to be a goal, the referee simply blew for full time without consulting his linesman or even appearing to give a second's thought over the incident. Stoking up the Sierra Leonean sense of being stitched up even further was the equally questionable decision of the official camera crew in the Ivorian stadium to not show a single solitary replay of the incident from its original or alternate angles. The cameras instead panned over a very relieved set of Ivorian fans, whilst Kamara and co. were left distraught.
To end things on a slightly cheerier note, Kamara's goal-scoring touch has fortunately followed him to the Eastern Seaboard, averaging just under a goal every other game for his new side. More recently, Kei's latest headline-making exploits involved him receiving one of the most cringe-worthy yellow cards of all time when booked for 'celebrating excessively' after twerking in front of the Revolution's home fans after scoring...
Although stateside he may now be a bigger name and on much bigger wages than when he first arrived in Norfolk from Kansas as a relative unknown, he's still clearly the same fun-loving self-described "oversized child" that Norwich fans connected with so instantly. Never change, Kei. Never change.