With Norwich letting another two comfortable leads slip at Leeds in the EFL Cup on Tuesday, another chapter was added to a now familiar tale of woe.

Andrew Lawn looks back at this frustrating run and asks, what is the problem boys?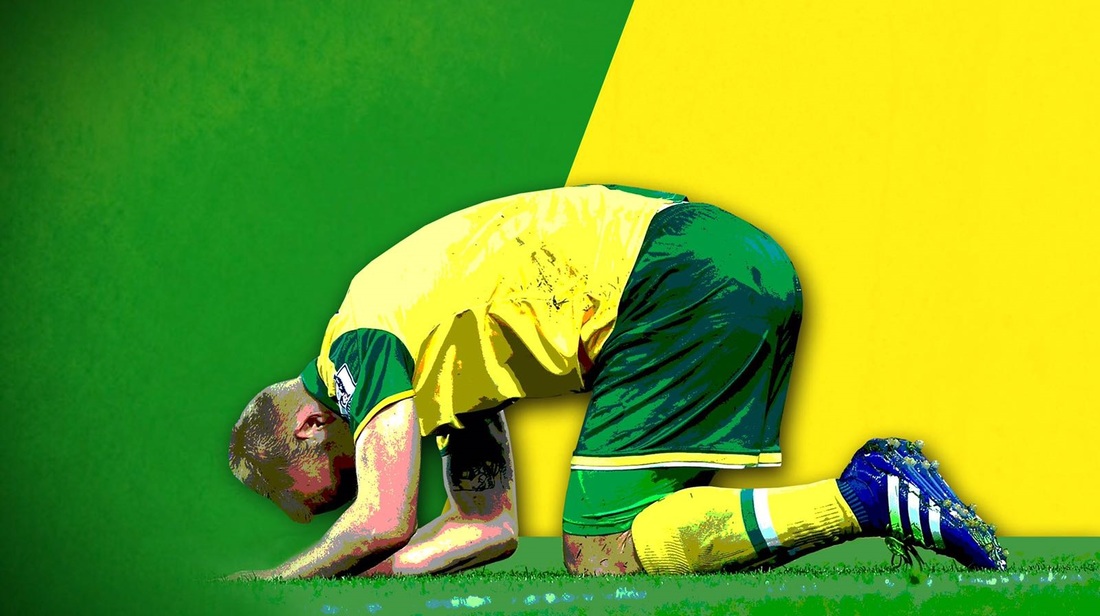 2-0 up and comfortable? Not Norwich City. A worrying pattern of being unable to hold onto games is starting to emerge from Alex Neil's men. It cost us our Premier League place and it could derail our attempts to return at the first time of asking.
Are we uncovering a new meaning for #AlongComeNorwich?
Saturday 26 September 2015 - West Ham United (a)
1-0 up early doors through Robbie Brady's 9th minute strike, we had started well, but the Hammers hit back through Sakho 20 minutes later. An even game was then seemingly settled by Nathan Redmond's crisp drive with 7 minutes to go. Jonny Howson rescued a pigeon and injury time arrived with City set to claim a big 3 points, until a 93rd minute leveller from Kouyate after a deep free kick wasn't dealt with. Did this begin the rot?
Saturday 31st October 2015 - Manchester City (a)
Slightly harsh to include this maybe, but once Cameron Jerome had nudged us level with 7 minutes to go, you hoped we could see it out. Nope. Calamitous defending led to a slightly harsh handball call on Russell Martin and Yaya Toure (remember him?) tucked home an 89th minute winner for the Citizens.
Saturday 23rd January 2016 - Liverpool (h)
We actually contrived to do it twice in one game here. Steven Naismith had enjoyed an excellent City debut, capped with a goal and winning a penalty for Wes to tuck away. This put us 3-1 up 10 minutes into the 2nd half. Almost immediately Russell Martin played a blind back pass and Jordan Henderson made it 3-2. 3-2 became 3-4 over the next 20 minutes, before Sebastian Bassong looked to have rescued a point with a thunderous left foot drive with 92 minutes on the clock, 4-4. Nope. Adam Lallana broke Jurgen Klopp's glasses with a loopy, bouncey volley with the last kick of the game and we were beaten.
Saturday 13th February 2016 - West Ham United (h)
West Ham again, but this time was somehow worse. 2-0 up with 20 minutes to go, we had played well and were comfortable. 2 goals in 2 minutes from Dimitri Payet and a Mark Noble thunderbastard cost us another 2 points.
Saturday 27th February 2016 - Leicester City (a)
Another slightly harsh one given the Foxes would go on to win the league, but an excellent and resolute defensive performance was entirely undone by an 89th minute lazy flick of Ryan Bennett's boot, leaving Leonardo Ulloa unable to miss. I make that 9 Premier League points from 5 games, not just lost but thrown away. Enough to survive easily.
Wednesday 28th September 2016 - Newcastle United (a)
The pinnacle surely. 3-1 up away from home to your nearest promotion rivals, with only 20 minutes to go, should be exactly the time to concentrate. Nah. One long ball that Bassong decided he didn't fancy heading and it was 3-2. Still 3-2 up in the 94th minute = 3 huge points? No. 3-3. Still I'd have taken a draw before the game. No. 3-4.
Tuesday 18th October 2016 - Fulham (a)
The curse of Craven Cottage had been lifted. An even 45 minutes had somehow seen us go in 2-0 ahead, away at Fulham. Away at Fulham. Worry not curse fans, an abject 2nd half saw the Cottagers pull level and the winless run continues.
Tuesday 25th October 2016 - Leeds United (a)
Twice in a week. Some going that. This time a dominant first 45 minutes saw City take a deserved 1-0 lead but give it away. An even 2nd half followed and extra-time beckoned. An additional 30 minutes we didn't need given we face Brighton away on Saturday. Still no worries, Leeds go down to 10 men through injury and Nelson Oliveira puts us 2-1 ahead. Easy street to the EFL Cup quarter-finals yeah? No. 2-2 through a goal that was sloppier than a sloppy thing that had been left in water overnight. Penalties. 2-1 down and heading out, we somehow get back to 2-2 and it's sudden death. Then Robbie Brady, who scored a penalty against GIANLUIGI BUFFON in the summer, misses and we crash out.
It wasn't funny to begin with and this doesn't take into account the close shaves against Cardiff (h), Burton (h) and Wolves (a) or even Ipswich (a) where we were so comfortable before they scored on the stroke of half-time, it was almost boring. Now it is just plain horrid. Stop it Norwich. Stop it now.
What can we learn from it?
Well nearly all (but not all) of these have come late on in games. If you recall last season a stat emerged that showed Norwich had run less than any other club in the Premier League. At the time Alex Neil dismissed it with "Well all that shows is that my players are in the right places already". Possibly. But in hindsight could it be the first signs of fitness being an issue? A few times this season 5 or 6 players have looked to be breathing out of the arses as the game enters the final quarter and it is surely no coincidence that tired bodies, lead to tired minds and lapses in concentration?
Add to this that we lost our former drill sergeant Gary 'Three Lungs' Holt recently, although the run began while he was still in the building.
If fitness is the problem, and I am concluding that it is, that should at least be easy to rectify, but first we need to admit we have a problem. The worry is that a fitness issue has created a mental stumbling block and our inability to hold on has become a self-fulfilling prophecy. Alex, over to you...