A few seasons ago, a picture surfaced on Norwich social media (namely, the magnificent Rewind Norwich account) that shook the very fabric of my sense of nostalgia to its core. A photograph of the 2004 promotion squad, decked out in the most 00s clothes imaginable – all blonde tips, stonewashed jeans and VO5 wet look gel. While the notion of the Proustian Rush has been over-described to such an extent now that it has become cliché, the photo genuinely made me shiver with an aching back to my formative years as a football supporter. 
Despite the fact this is just a photo of some blokes in front of a door, there's something very particular about it that has, time and time again, sent me into a trance each time I see it.
While I had been to many Norwich matches before 2003, the title-winning campaign of that year happened to coincide with my turning 12, which, as we all know, is usually the age at which the final seeds will be sown to determine whether or not you will be sucked into this ridiculous thing called football for the rest of your life. Boy, and how was I.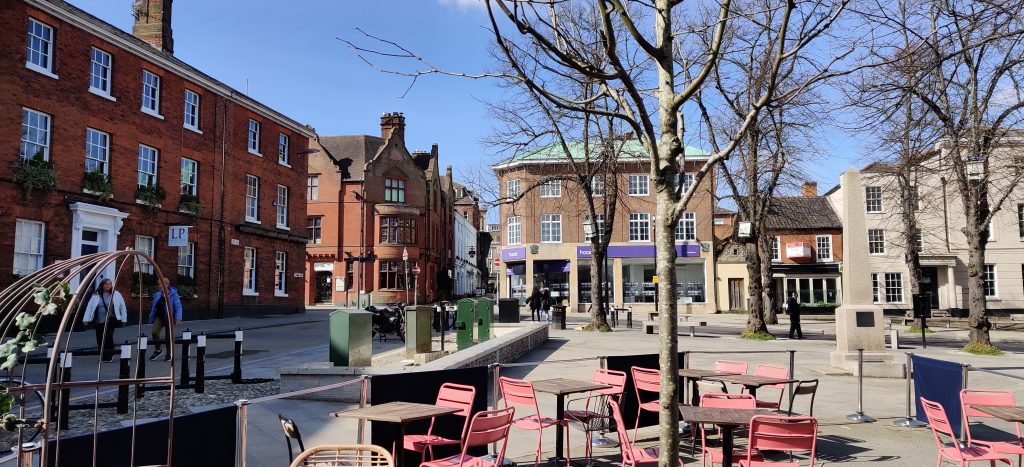 The above photograph was taken by myself yesterday as I strolled around Norwich to try and forget about the game ahead. Remember it as we will be revisiting it.
And, looking at the photo, I can practically smell the Joop and Lynx Chocolate of the Queen of Iceni beer garden, hear the echoes of the Castle Mall when it still had people in it, see the new South Stand under construction. Somehow it just captures all of it.
But, even more so, there's an innocence to the picture that reminds me of a time when I believed that even professional footballers were just a bunch of mates having a laugh. When I thought football was just football, and I never contemplated or worried about all the other nonsense going on around it like Super Leagues, petro-states owning clubs and loan clauses forcing us to play the centre mid. And I think this is why I find it such a fascinating snapshot of a moment in time.
Anyway, enough eulogising. Let's get to the clickbait content we've all come here to see. Rating each player's appearance based on their 00sness from left to right:
Keith Briggs – 3 Eric Prydz Pjanoos out of 5
Solid start from a player I hadn't realised was still at the club towards the end of that season. Fulfils the long sleeve t-shirt requirement for any 00s photography, and has the spiky hair look that every male aged 11-39 had at some point during our 2002-2007 nostos journey.
Iwan Roberts – 1 Cadbury Dream Bar out of 5
Poor show from 'wor Iwan' here. While the hair attempts to claw back some pride, the red tee with white jacket slips too much back to 90s children's TV presenter.
Jim Brennan – 5 Landfill Indie Albums out of 5
The true hero of the piece. The standout. The clincher of the 00s personification champion's trophy. The chain, the stonewash, the belt, the tee. The hair! Look at the hair! The hair every mid-00s teenager wanted but was never quite able to achieve. Legendary.
Paul Crichton – 2 Afternoons In The Millenium Library out of 5
A man who is only known for what he supposedly brought to the dressing room. We cannot see much of reserve keeper Crichton here, other than having the hair the slightly scary boyfriend of your older sister had.
Phil Mulryne – 4 Castle Mall Disney Stores out of 5
A great effort by Mulryne, accented mainly by the nice touch of the shirt tucked into the front of his jeans despite not having a buckle to show off. The leather jacket nearly threatens to destroy the 00ness, but the t-shirt being on show claws it back.
Adam Drury – 2 Blockbuster Videos out of 5
Can't see Captain Drury's clothes here, but the hair only barely musters a point and, frankly, there's nothing to tell me whether the t-shirt will be anything other than omnifashionable.
Malky Mackay – N/A
Literally impossible to tell the hair or clothing of Mackay here and thus, no score can be awarded. 
Darren Huckerby – 5 Motorola Razors out of 5
Huckerby was (and still is) my favourite player, so, of course, he smashes it with that haircut here, which, yes, I did try and copy. The tee is the icing on the cake.
Mark Rivers – 3 WKDs out of 5
We can't see much of Rivvo, but the hair is good enough to pick up a few points – especially as it somewhat clashes with his voice that we all know so well from his Radio Norfolk gigs. Can you judge someone's voice by their hair? Rivers is an example to us all that you, indeed, cannot.
Craig Fleming – N/A
Can't tell the clothing and would be harsh to judge on hair alone. No score awarded.
Leon McKenzie – 3 Time Nightclubs out of 5
Good effort from Leon. The denim jacket couldn't be more mid-00s footballer if it tried, and the prominent watch takes it up a notch. Only let down by the fact he doesn't appear to be wearing double denim. 
Zema Abbey – 4 Whatever People Say I Am That's What I Am Nots out of 5
Superb leather jacket and white tee combo that only loses a mark because you could picture it being fashionable outside of the 2000s. Can only speculate on trouser type but stonewashed denim must be the choice.
Marc Edworthy – 5 Bench Hoodies out of 5
Glorious. Simply…glorious. The stonewash and ripped jeans with a slightly oversize grey tee with intelligible design has had many imitations, but it is seen here in its proper natural habitat of a city centre circa 2005. Then there's the hair. A stupendous curtained wet look which is also sensible enough to not veer too far back to the late-90s. Brilliance from the fullback.
So there you have it. But. The story of this photograph doesn't end as there are, I realised after looking through each of these players, four important questions that need answering:
Question one appears at this stage to be unanswerable: who took it? Searches through both Iwan's and Hucks' autobiographies proved fruitless, and it is impossible to determine from the list of 2004 players not in the photograph who was behind the camera – even if we can indeed speculate. The players not in this photo include Robert Green (who, for my money, is who took the photo), Mathias Svensson, Damian Francis, Ian Henderson, Ryan Javis and Gary Holt.
Another question, this time more Twilight Zoney: who's hands are on Jim Brennan's shoulders? The instinctive answer to this question is that it's Paul McVeigh and that he is too short to be seen, but again much like who took the photograph, this is merely speculation. While we can assume McVeigh, we really can never be certain that it isn't some trick of the camera.
So then, when was it taken? This one is a little bit easier to determine. We know it's 03/04 from the players there and, as Leon McKenzie is in the image, it is after December 2003, the month he signed for us in that incredible two week Christmas period that included TOTLAPR, the Forest game on TV and Darren Huckerby signing permanently. Considering the lads are proudly sporting their t-shirts, we can also assume that the weather is warmer, which must mean that it was taken in late spring/early summer 2004. April or May is my bet, considering Iwan (and others) left the club at the end of the season.
***UPDATE***
Thank you Steve Gedge who has identified that the photo was taken by Bill Smith of the EDP (so I lose my money in thinking Greeno took it) and that the date was  5 May 2004 – the day after Norwich clinched promotion. The image appeared in this article from the EDP from Iwan, commenting on the party they had.
One final question. The biggy.
Where was it taken?
The doors are our biggest clue because, even though most doors of the mid-00s seemed to receive this colour varnish, they absolutely scream Squares' smoking area overlooking Riverside. However, a few Googles concluded that Squares' riverside doors during the 00s were, in fact, white – thickening the plot. This news stumped me. It really did.
Then, just as all hope appeared lost in me ever finding where to put our blue plaque, Terri Westgate, utilising her extensive knowledge of Norwich architecture through being a regular frequenter of local public ale houses and drinking establishments, put forth the idea that the brickwork looked like it was from the Tombland area. 
And so the leap was made, and if you'd excuse me a Coleen Rooney moment, it was (and indeed still is)…….
The front door of Zizzis, Tombland.